Macron arrives in Mali for visit to French troops
Emmanuel Macron has arrived in Mali to meet French troops, less than a week after his inauguration as president.
Mr Macron's plane touched down at a French airbase in the north of the country just before 10:00 GMT (11:00 BST).
He is due to speak with Mali's President Ibrahim Boubacar Keita during his short visit.
French soldiers have been fighting Islamic militants in the north of the former French colony since 2013.
Mr Macron – accompanied by Defence Minister Sylvie Goulard and her predecessor, now Foreign Minister Jean-Yves Le Drian – will review some of the 4,000 anti-insurgent troops France has deployed in the region.
This is Mr Macron's second foreign trip as president. He visited German Chancellor Angela Merkel in Berlin a day after his inauguration on Sunday.
As president, he is expected to continue his predecessor's policy regarding military presence in West Africa. However, the fact French Development Agency (AFD) chief Remy Riouxhas also joined the visit is seen as a sign he wishes to have an emphasis on economic development as well.
France retains a strong influence in its former colonies.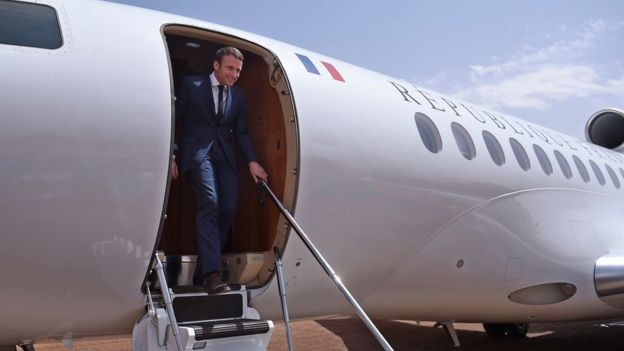 Mr Macron has talked about writing a new page in his country's relationship on the continent, and of breaking away from the old neo-colonial networks.
As a candidate, he stirred controversy at home by labelling France's colonial war in Algeria a crime against humanity – something which was well-received in the former colonies.
---
Analysis: Mark Lowen, in Paris
The choreography of the first week in office of any head of state is delicate. Impressions are formed quickly and judgements are made that often endure. Emmanuel Macron has done the diplomacy with Angela Merkel, the internal politics with his cabinet and now he's fulfilling the role of commander-in-chief, visiting French troops in Mali.
In part, it's good optics, being seen to support the 4,000 soldiers stationed in West Africa since 2014. He will be stamping his authority on the French-led mission fighting armed groups in the Sahel, which he's expected to pursue.
Mr Macron's new foreign minister, Jean-Yves Le Drian, was defence minister when the intervention was launched. But there's clearly a practical purpose too: to discuss France's counter-terrorism efforts and assess whether more needs to be done. 332 people were killed in attacks in Mali last year alone, and plenty of questions remain over the assassination of two French journalists there in 2013.
So symbolism and substance for the new president as he assumes the task of protector of the French nation.