Kenya, Tanzania and host Rwanda are the countries in vogue at the World Economic Forum's annual confab of Africa's business and political leaders that began Wednesday in Kigali. All three economies should expand at least 6 percent this year, double the sub-Saharan Africa average, according to the International Monetary Fund. Growth in Ethiopia, the investors' darling at last year's WEF Africa summit, is set to slow to 4.5 percent this year, from 10.2 percent in 2015, as a drought curbs farm output.
"Looking at East Africa, anything below 6 percent growth is considered a really poor performance," Martyn Davies, the managing director of emerging markets and Africa at Frontier Advisory Deloitte, said in an interview at the WEF summit. "Low oil prices are a tailwind for growth in this part of the world."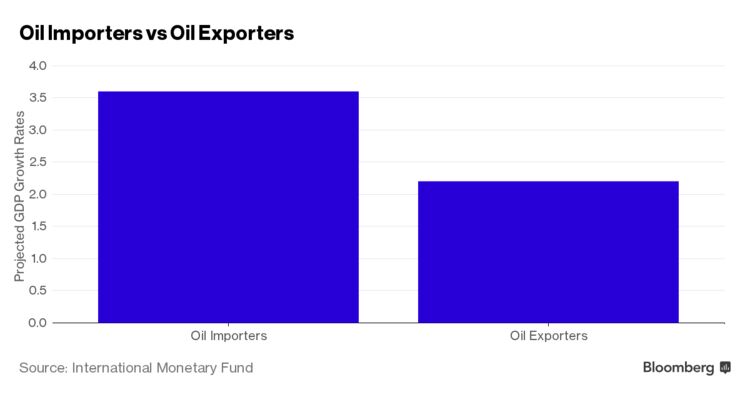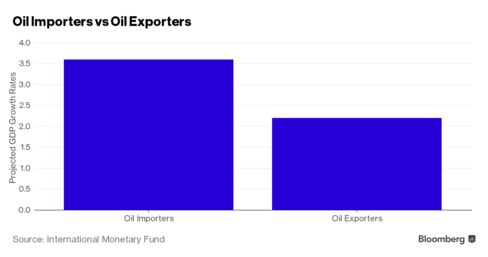 Besides benefiting from lower energy costs, Kenya, Tanzania and Rwanda are reaping the spoils of developing their tourism, agriculture, services and manufacturing industries and improving their transport links and energy supply. East Africa has also been leading economic integration in Africa, helping promote regional trade.
"We have a much more diversified economy," Kenyan President Uhuru Kenyatta told the conference. "Africa needs to move away from being commodity-dependent."
Nigeria, which relied on crude for more than 90 percent of export earnings in 2014, is a case in point. Its growth rate is expected to slow to 2.3 percent this year, from a peak of 10 percent in 2009, according to the IMF. Growth has also tanked in commodity-dependent Angola, Ghana and Zambia.
Africa needs to adjust to lower commodity prices, maintain spending on education and infrastructure, maintain flexible exchange-rate regimes and foster domestic demand in the face of slowing global growth, according to David Lipton, the IMF's first managing director.
 "Each country has to figure out how to adjust its stride," Lipton told the summit. "They can't count on China the way they used to."
The factors that underpinned Africa's growth surge, including a young and growing population, greater urbanization, improved governance and greater macroeconomic stability, remain in place in many countries, said Razia Khan, head of Africa economic research at Standard Chartered Plc.
"Yes, it is a testing time," she said in an interview in Kigali. "We think it is still a matter of Africa rising. It was never going to be a linear move up. I don't think anyone should be thinking the outlook is dramatically different to what we have seen in the past."
Africa attracted $71.3 billion of foreign direct investment last year, down from $88.5 billion the year before, accounting firm EY said in its 2016 Africa Attractiveness report, released on Wednesday.
Despite the fact that South Africa's economy is set to grow less than 1 percent this year, EY ranked it Africa's most attractive investment destination, partly because it is so much more developed than its continental peers. Kenya was ranked fourth, after Morocco and Egypt, while Rwanda was ninth and Tanzania 12th.
"From an investment perspective, the next few years may be challenging," EY said. "However, most African economies are in a fundamentally better place today than they were 15 to 20 years ago. Overall growth is likely to remain robust relative to most other regions over the next decade."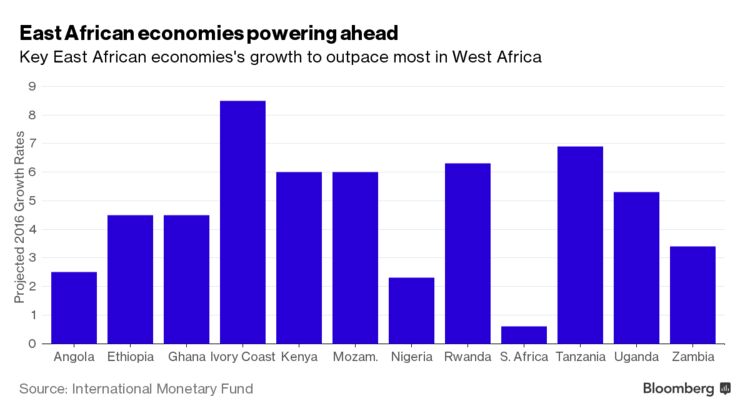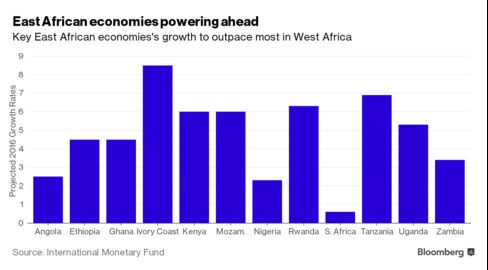 The investor bias toward East Africa is likely to continue while commodity prices remain weak, according to Natznet Tesfay, head IHS Africa Country Risk.
"It's the only area that we get a lot of questions about," she said in an interview in Kigali. "It's seen as being a safe haven in this post-commodity super-cycle reality."