Zambia's Former Interim President to Support Opposition in August Election
By James Butty*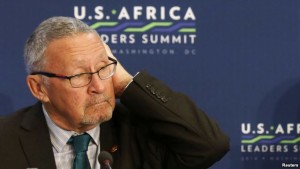 Zambia's former interim president has declared his support for opposition presidential candidate Hakainde Hichilema of the United Party for National Development (UPND) in the country's August 11 presidential election.
Guy Scott, a member of the ruling Patriotic Front party, said he is not leaving the party, but felt compelled to support Hichilema because the Zambian political climate was becoming so polarized. "We said that we will be working together, and the likely implication of that is that we will support their presidential candidate. But there are still details to be worked out," he said.
Scott reluctantly campaigned for incumbent President Edgar Lungu in the January 2015 presidential by-election held because of the death of then-President Michael Sata.  Scott made clear that he was not doing it for the candidate but the party. Lungu narrowly defeated Hichilema.
This time around, Scott said, Hichilema could get about 60 percent of the vote in August to Lungu's 40 percent.
Scott accused Lungu of allowing the ruling PF party to be taken over by the Movement for Multi-Party Democracy (MMD) of former President Rupiah Banda, thus marginalizing members of the PF party. "What has happened since then when Michael Sata died, and the MMD came to us and said we want to help win this by-election, this unexpected election, and we said that's fine. But since that time, the MMD has be getting stronger and people like me have squeezed into a corner," he said.
Zambia's political climate has been punctuated pre-election violence, prompting the Episcopal Conference of Zambia to this week call on all political parties and their presidential candidates to take steps to curb politically motivated violence.
Since his ascension to power, Lungu has presided over a deteriorating economy beset by falling copper prices and a crippling energy crisis that has badly affected production.  The country has lost about 8,000 mining jobs in the country's influential Copper belt.
Lungu has also been criticized by some for accepting a salary increase along with the country's civil servants.
A presidential Emoluments Act signed this month by finance minister Alexander Chikwanda put President Lungu's 2016 annual salary at nearly $40,000, plus an annual allowance of nearly $11,000.
But Information Minister Chishimba Kambwili told VOA this week the salary increment is an annual thing that began with the administration of founding President Kenneth Kaunda.
*Source VOA