HOW TECHNOLOGY IS ACCELERATING ECONOMIC GROWTH IN AFRICA
By Ahmed Mheta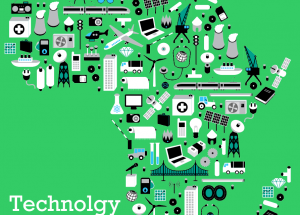 Technology has helped many countries around the world achieve economic growth. It is evident to most of us that technology speeds up and makes things we want to do easy. Technology can help in achieving economic and physical success. This article will look at how technology is accelerating economic growth in Africa and how people are benefiting from technological presense. According to Rupert Keeley, general manager for PayPal's business in Europe, the Middle East and Africa, the rapid adoption of mobile technology and the growth of online shopping by an emerging middle class makes Africa a fertile region for expansion.
Health
Technology has changed the way healthcare is being delivered globally allowing individuals easy access to health resources and services. The technological health resources include health text messaging projects, portable sensors and mobile apps that ensure effective service. For example, an international NGO named Malaria No More is curbing the spread of Malaria in Africa and internationally through the use of mobile technology. People are able to donate money to treat an individual with malaria using a smartphone. In Ghana, the MOTECH initiative allows women to register to receive local-language messages that provide advice for healthy pregnancy. In addition, the initiative allows health workers the ability to use mobile phones to record health services provided. Healthy citizens turn out to be active members of society and contribute to economic growth through effective participation. It is important for African countries to pay more attention to the health of people in society.
Agriculture and Farming
In most African countries, agriculture supports the well-being of about 70 percent of the continent's population. Mobile technology has played a major role as a transformative tool for rural agriculture. For instance, the Kenyan text messaging platform Sokoni SMS allows  farmers to transfer concise information about wholesale retails of crops and enabling other farmers to negotiate deals on agricultural stock. Sokoni users get value for their fees and their earnings have doubled as a result of access to timely text message market information. Finally, the role played by mechanical technology encompassing many agricultural operations cannot be forgotten. The use of engine powered equipment and irrigation systems that control volume of water is an example.
Banking
Technology has played a major role in how people bank their money and take care of their finances globally. The impact of technology can be seen in how people are banking in Africa today. An example of banking technological evolution in Africa, is the establishment of Safaricom's  M-Pesa , a service that makes it possible for users to store money on their mobile phones and then use it to pay their electricity bills or send money to their loved ones via text. The use of smartphones has clearly improved how people manage their finances online and personally. Most Africans can now use their mobile phones to monitor their money online and purchase goods and services.
Education
The importance of technology has led to the growth of education in African countries. For instance, over 200 children in Ghana learned how to use computers through the Volta Regional Library's mobile service. The library initiative brought computers to rural areas and taught students ICT skills necessary to aid them in passing their exams. Some students would not have had the opportunity to use computers in class while learning and only learn theory. Students are now able to implement new skills acquired to find information about farming which would improve the livelihoods of many people in Africa.
Mining
In South Africa, mining has been a major economic driving force for over 150 years ago. South Africa is the world's biggest producer of platinum and one of the leading producers of gold and diamonds. Technology has played a major role in the success of mining in Africa. For example, mechanized mining seeks to use machinery to drill and extract minerals and metals. In addition, technology assists South Africa's competiveness by maximizing  productivity. Miners are trained to use and maintain highly specialized equipment. This technology allows miners greater access to reserves that would be too dangerous to explore. South Africa is setting global mining  industry standards by the use of mechanization and robotics.
References:
"Mobile Health: Transforming the Face of Health Service Delivery in the African Region." African Health Observatory
"Agriculture and Development in Africa." Agriculture and Development in Africa. Ed. Cutler J. Cleveland.2007
"Text Message Services Improve Agriculture in Kenya." Commodities and Futures Trading Blog Articles. 2015
Mennell,Rick. "South Africa Info." South African Innovation Sets Pace for Mining Industry.2015