South Sudanese to be the first player to go straight from high school to NBA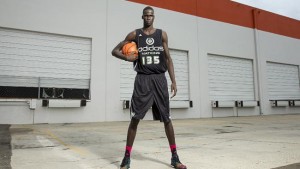 Most elite high school prospects follow a similar path: graduate from high school, play one year in college, and then declare for the draft.
A few, such as Emmanuel Mudiay, make an unexpected pit stop overseas rather than play in college, usually spurred on by questions over their amateur eligibility.
At 7-0, 205-pounds, South Sudanese basketball sensation Thon Maker is an intriguing prospect with his shot blocking skills, high motor and perimeter skills.
He is ranked No. 10 in the 2016 247Sports Composite.
Maker was heavily pursued by college coaches, including John Calipari at Kentucky, before making a stunning decision: rather than go to college he opted to return to Orangeville Prep, his high school, as what is now being dubbed a post-graduate year.
The NBA this week ruled that Maker is one year removed from high school graduation and as a 19 year old is thus eligible for the 2016 draft as first reported by ESPN NBA insider Chad Ford.
Most NBA mock draft analysts have him currently pegged as a later first round pick Ford has him pegged at No. 20.
With his skill set which should shine in small group workouts with NBA teams, it wouldn't be a surprise if Maker edges upwards in the draft. Maker can stretch the defense with NBA three-point shooting range and is comfortable handling the basketball.
The questions about his game are his ability to secure the ball in traffic and finish against contract along with his overall ability to process the game.
Of Sudanese decent, Maker came to America from Australia as a high schooler.
His first love was soccer before he was noticed by a talent scout and was convinced to give basketball a try. Since then, every move Maker has made was to set himself up for NBA draft on June 23.
He has been to various high schools, but graduated last summer while at the Athlete Institute Basketball Academy in Ontario. He played with this same squad this season as a post graduate student.