South African ruling party in crisis talks over Zuma scandal
By Stella Mapenzauswa*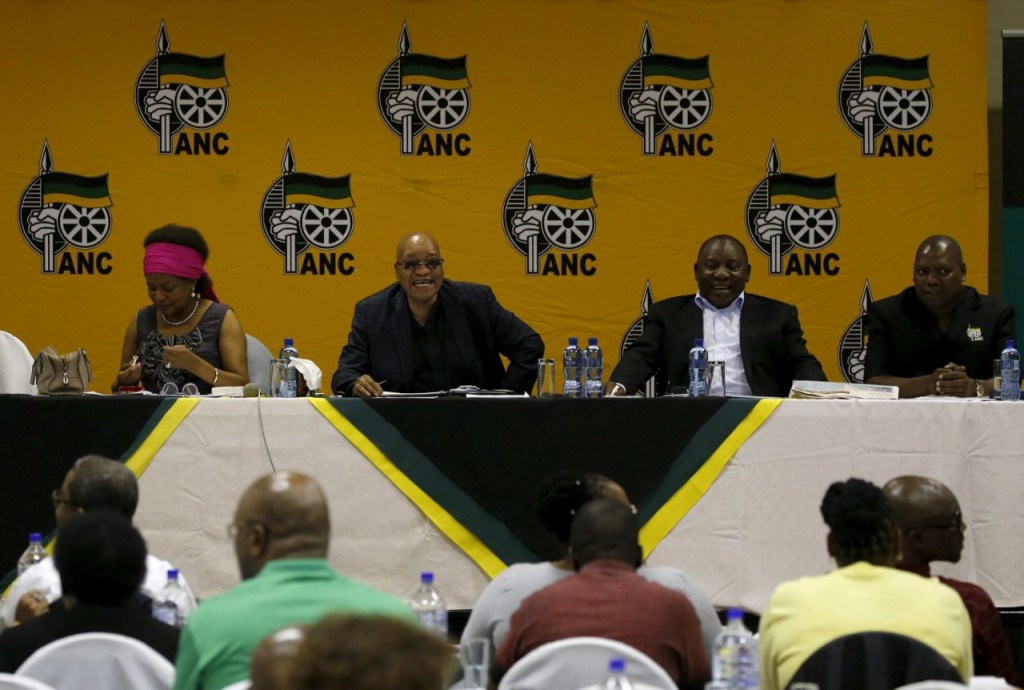 JOHANNESBURG (Reuters) – South Africa's ruling African National Congress (ANC) party held crisis talks on Monday to discuss the fallout from a court ruling last week that President Jacob Zuma flouted the Constitution, triggering calls for him to resign.
The ANC backed Zuma, 73, after the Constitutional Court rebuked him for ignoring Public Protector Thuli Madonsela's order that he pay back some of the $16 million spent on upgrading his private Nkandla home.
But the scandal, one of several which have dogged Zuma over the past decade, could strain relations between the ANC and its allies the South African Communist Party (SACP) and labour federation COSATU, which have helped it to retain power since the fall of apartheid in 1994.
ANC officials declined to give details of Monday's meeting by the party's national working committee, which follows that of the ANC's top six leaders on Friday. The ANC could issue a statement later on Monday, a spokeswoman said.
Analysts say the Constitutional Court ruling is a blow to Zuma's credibility and could harm the ANC ahead of municipal elections due between May and August.
National Assembly Speaker Baleka Mbete, who is also the ruling party's chairperson, said on Sunday parliament would on Tuesday debate a motion by the opposition to impeach Zuma.
The motion is, however, likely to fail in the house where the ANC, in power since Nelson Mandela became the first black president at the end of white minority rule, still enjoys a comfortable majority, with 62 percent of the 400-seat assembly.
"Zuma remains in control of his party (even if slightly weakened) and with a significant degree of electoral popularity, especially in rural areas and KwaZulu-Natal," BNP Paribus Securities South Africa political analyst Nic Borain said.
In a televised address to the nation on Friday evening, Zuma apologised and said he would pay back some of the money spent on the updgrades at Nkandla, but denied acting dishonestly.
On Sunday, a jocular Zuma told a cheering crowd in his home province of KwaZulu-Natal that he was still youthful and remained South Africa's leader, making no specific mention of the Nkandla issue. Support for Zuma from ANC allies has been somewhat restrained.
In a statement, the SACP applauded Zuma for publicly apologising on Friday for the debacle. But it warned that the Constitutional Court ruling was a signal to the alliance that "decisive action is now imperative, otherwise the continuing loss of moral authority, political paralysis and fragmentation of our movement will continue".
The party said it was seeking an urgent meeting with ANC officials.
*Source Reuters/Yahoo