South Africa: Blasphemy! Prophet Mboro Claims Jesus Has 'Hot' Wife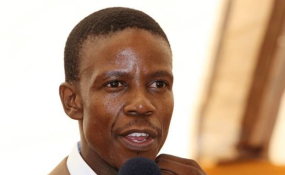 South African based controversial Paseka Motsoeneng, a self-styled 'prophet Mboro' has incensed many Christians with hi blasphemous comments on Sunday that his "visit in heaven" he found Jesus Christ has a "young, hot" wife.
Reports claim that in the first church service which he gave Sunday, the Prophet described heaven to his followers.
Talking about his heaven experience, Incredible Happenings Leader, Prophet Mboro, said Jesus Christ, the Lord and Saviour of the Christian Religion, has a young hot wife.
"I saw heaven and it is a surprise. Jesus for example, has a beautiful Xhosa wife. She is young, hot, and extremely attractive," he said.
Christians generally do not want to hear any blasphemous statement against Jesus.
Mboro made international headlines last week after his followers claimed he was 'abducted' by God during an Easter service and taken to heaven.
Upon return, the man of cloth claimed he took pictures of heaven using his Samsung Galaxy S5 Smartphone.
His spokesperson proceeded to announce that the church would be selling photos of "heaven" a development which has seen Mboro roundly mocked online.
Although some of Mboro's followers rushed to say that the story was satirical, that didn't stop many from ridiculing the pastor.
"If the Americans can go to the Moon why can't Pastor Mboro go to Heaven and take pics," tweeted one. Another commented: "Don't forget your selfie stick when U go to heaven."
For those unable to afford the donation, there was also plenty of humorous speculation online about what the photos might show.
*Source Allafrica/Nyassa Times