A new jolt for South Sudanese coffee
By Naki B. Mendoza*
The world's newest country has a new export industry — and donor funding to help scale it.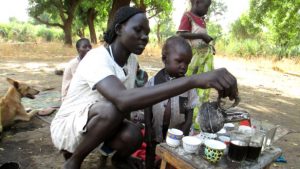 The U.S. Agency for International Development will invest $3.18 million in South Sudan over the next three years to train smallholder farmers to boost production in the war-torn nation's nascent coffee sector. The funding is part of a public-private partnership with Swiss coffee maker Nespresso and international development non-profit TechnoServe.
In October Nespresso shipped its first volumes of coffee production from South Sudan, marking the first non-oil exports to come out of the country in over a generation.
Nespresso's investment in South Sudan's fledgling coffee trade has given a jolt to commercial scale business in fragile and conflict-affected areas. Since launching a flagship project to revitalize coffee production in the country in 2011, around 1,000 smallholder farmers have been trained in agribusiness techniques, roughly three-quarters of whom have now reached the point of commercial sales. They have formed six coffee cooperatives and established the country's first wet mill processing unit.
Farmers receive premium prices from Nespresso for their beans as part of a shared value strategy by the company to invest in farmer training in exchange for top dollar crops. By 2019, Nespresso aims to train 1,500 local farmers and plans for one-quarter of them to be women. Looking even further ahead, the company has set a goal of 10,000 trained coffee farmers, though no deadline has been assigned.
USAID's investment — made through a Global Development Alliance that matches funding one-for-one with a private sector partner — comes at a critical phase for Nespresso and TechnoServe.
In addition to setting up more wet mills, the funds will go toward training a new cohort of farmers who have yet to grow any coffee from their farms, TechnoServe President William Warshauer told Devex. Until now, all of the farmers receiving training had in some way previously engaged in coffee production.
Limitations in crop production provides another challenge, as most of the country's coffee trees were destroyed over the course of a long-running civil war that eventually saw South Sudan emerge as an independent nation in 2011. The scarcity of supply makes harvesting the next crop of coffee trees a particularly important task in order to sustain future production from the sector.
Compared to other Nespresso coffee farming investments, "What's different in South Sudan is that here it feels like a research and development project," Daniel Weston, Nespresso's director for creating shared value, told Devex. "You have to invest quality dollars up front before you get the income stream."
A large part of that R&D experiment has been the very act of operating a value chain in fragile state conditions. An estimated 2.5 million people have been displaced by ongoing conflict in South Sudan and another 6 million are in need of humanitarian assistance, Linda Etim, USAID assistant administrator for Africa, told Devex. Most of Nespresso's coffee project is located in the southern region of South Sudan, relatively far from the main flashpoints. But those stable regions exist in isolated pockets throughout the country, cut off from traditional markets by fighting and weak infrastructure.
"There is an opportunity to invest in those stable regions," Etim said. "You don't want instability to backslide into more stable areas of the country while fighting is taking place in different patches of South Sudan."
The type of scale that the partnership envisions is, by most standards, modest — 10,000 farmers across an area roughly the size of Texas. And while there is optimism about alternative livelihoods emerging to diversify an economy almost entirely reliant on oil exports, any real displacement by the coffee sector is still far off.
"This is not the sole answer for South Sudan," Weston said. "It's one piece of a very complex puzzle."
But the country's sparse population density makes that 10,000 farmer target meaningful, Atim noted: "We know because of how spread apart populations are that we have to take a locally driven approach to development in the agriculture sector."
*Source DEVEX