Health Care Boost For Cameroon as Lambe Foundation Steps Up Fight Against Diabetes
By Ajong Mbapndah L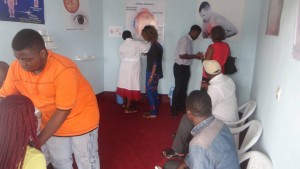 The Lambe Cameroon Diabetic Foundation is taking its crusade against diabetes a notch higher with an awareness and fundraising gala to fund its activities in Cameroon. In existence for about a year  now, the Foundation has so far  provided free testing and education  to residents of Buea in the South West Region of Cameroon.
Plans are underway to extend the services to other parts of the country said Dr Oscar Lambe who heads the Foundation.Motivated by experiences in his own family, Dr Lambe sees in the Foundation an attempt to make basic services available to people who cannot afford them or are clueless about diabetes and its related ailments.
It is heartbreaking to see gory images of health related mishaps in Cameroon, says Dr Lambe who believes that the government could definitely do better. Cameroonians in the diaspora can be part of the solution to the healthcare woes of the country and one way of doing so is by working in synergy ,said Dr Lambe. There is a partnership in the works between the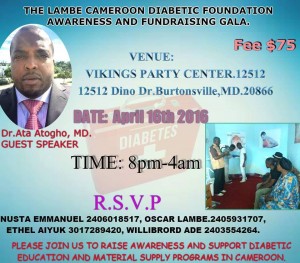 Lambe Foundation and the Patcha Foundation, Dr Lambe said as he urged other Cameroonian professionals and organizations to pool resources and expertise together to make a more relevant contribution towards improving health services in Cameroon.
The awareness and fundraising gala which takes place on April 16, at the Vikings Center in Burtonsville,Md, will have as guest speaker Dr Ata Atogho.Proceeds will also go towards supporting diabetic education and material supply programs.