Cameroon: Joint forces arrest 300 Boko Haram fighters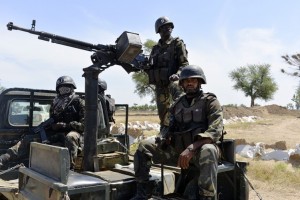 YAOUNDE, Cameroon — Cameroon says multinational forces fighting Boko Haram have arrested over 300 Islamic extremists and freed at least 2,000 people from their strongholds along Cameroon, Nigeria and Chad borders.
Cameroon's commander of the joint forces, Bouba Dobekreo, said Tuesday that during the three-day operation, forces also destroyed a Boko Haram training and logistic base about 35 kilometers (22 miles) north of the Nigerian town of Kumshe.
The governor of Cameroon's Far North province, Midjiyawa Bakari, has asked that all displaced people be directed by the military to the Minawao refugee camp in northern Cameroon to be better tracked.
Cameroon, Nigeria, Chad, Niger and Benin have contributed about 9,000 troops to fight the six-year insurgency launched by the Nigeria-based militants. More than 1,000 humanitarian workers have also been deployed.