Benin has a new president: Patrice Talon, an ironic outsider politician
By Claire Adida and Adam Chabi Bouko*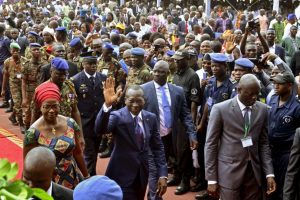 Last month, voters in Benin rejected the establishment candidate Lionel Zinsou and elected instead business mogul Patrice Talon. Although the media like to characterize Benin as a model of democracy for the rest of the continent, Talon's unexpected victory raises questions about what it means for Benin's democratic future.
This election continues a recent trend in Benin of voters favoring political outsiders. But the outsider label is not always an asset, and in Zinsou's case, it quickly became a liability.
A history of favoring outsiders
After independence in 1960, Benin experienced a series of coups and counter-coups. The last of these occurred in 1972, when Lt. Col. Mathieu Kérékou seized power in a military coup. Kérékou's Marxist regime lasted nearly two decades. When Benin transitioned to democracy in 1990, it elected as its first democratic president Nicéphore Soglo, a man who was born in neighboring Togo, educated in France and spent most of the Kérékou military years outside Benin, working with the International Monetary Fund and the World Bank.
Still, Kérékou's influence endured, and he returned to power — this time democratically — for another decade from 1996 to 2006.
It was unsurprising, then, that in 2006, Beninois voters decidedly turned to a political outsider, Thomas Boni Yayi. Yayi, an economist, had been president of the West African Development Bank since 1994. Unlike his political rivals at the time, he had no prior political experience, an asset on which he capitalized: He ran as an independent, his campaign based on "Change".
A decade later, Yayi is no longer the political outsider. His political alliance FCBE (Cowry Forces for an Emerging Benin) is the establishment. And his handpicked successor, Zinsou, has paid the price.
Zinsou: The wrong kind of outsider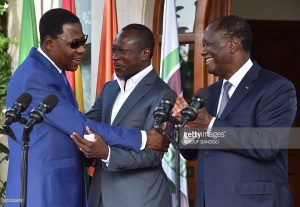 After a decade of Yayisme, a presidency that achieved undeniableimprovements in education, infrastructure and transparency but in the end was marred by corruption scandals and allegations of third-term politics, it wasn't entirely surprising that Benin's voters sought a new outsider.
Perhaps recognizing this, Yayi chose to groom Zinsou as his successor. Zinsou, the son of a French mother and a Southern Beninois father, was born in France and educated at Paris's Ecole Normale Supérieure and the London School of Economics, a pedigree more typical of French politicians than Beninois politicians. In the 1980s, he worked under Laurent Fabius's Socialist government in France.
In short, Zinsou had all the qualities of a political outsider. But these qualifications ended up working against him in his run for the Benin presidency this year. Zinsou's ties to France fed the opposition's claim that he wasn't Beninois enough — or, in their words, that he was a little too white.
Even within his own party (FCBE), Zinsou's Southern Benin roots alienated the largely Northern old-guard. Some had hoped it would be their turn to eat; others did not want to see a "Southern" man at the helm of their party.
Zinsou was a political outsider. But perhaps a little too much of one.
Talon: Benin's ironic outsider
Instead, Benin voters — and most of the first-round candidates — turned to a different kind of outsider. Known as the "king of cotton," Patrice Talon is first and foremost a businessman who built his empire in the cotton-ginning industry. But his business success is due in no small part to the connections he cultivated with Benin's political ruling class, first under Kérékou and then under Yayi. After bankrolling Yayi's 2006 presidential run, his company took over Benin's newly privatized cotton industry. And in 2011, after supporting Yayi's reelection campaign, his business acquired the management of Cotonou's imports at the Port of Cotonou, the country's economic engine.
But the tide turned that same year. Embroiled in a corruption scandal, Talon has been investigated and accused of embezzling more than 18 million euros in import taxes. He fled to France in 2012. A few months later, he was linked to a scandalous murder attempt on Yayi — one worthy of its own Nollywood plot — with an ongoing judicial investigation in Paris.
Talon built his business empire with the help of lucrative deals he struck with Benin's political class. But the scandals of the past four years have placed him in direct opposition to President Yayi, a former friend whose campaigns he subsidized: in this election, Talon became Benin's ironic outsider candidate.
In principle, Benin's thirst for political outsiders could help nurture healthy electoral competition. Instead, combined with rising campaign costs and expectations of clientelism, it has been a boon for wealthy candidates whose numbers in Benin's parliament have quadrupled in recent years — and who also happen to be particularly bad at their jobs. This combination is bad news for Benin's democracy, and inevitably, for the Beninois themselves.
*Source Washington Post