Why should anyone listen to the hypocritical whitewashing of Congo-Brazzaville?
by William Clowes*
Former politicians need to keep busy, but are there not more edifying ways to pass the time than laundering the reputation of one of Africa's most venal autocrats?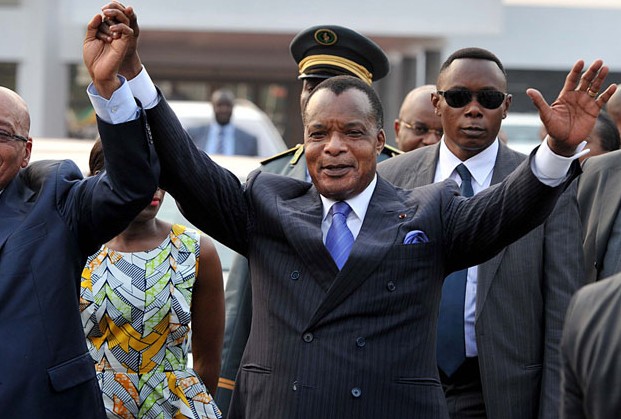 In the last 10 days, the former British MP Eric Joyce has written two similar articles published by The Guardian and New Statesmen, the former entitled 'Why should Africa listen to the hypocritical criticism of its three-term leaders?' and the latter 'We trust British politicians with third terms. So why not African ones?'
In these articles, Joyce – who took a keen interest in African affairs, the extractives industries and fighting corruption while in office – has two clear objectives. One of these is reasonable, the other irredeemably not.
The more general argument is that there are too many double standards in the way Western governments interact with their African counterparts. In particular, Joyce says it's unfair to insist on term limits in Africa while in Europe the likes of German Chancellor Angela Merkel will likely be elected for a fourth term in 2017.
At a time when several long-serving African presidents have recently organised referenda to change constitutions to help them stay in power, Joyce asks: if the population of Rwanda wants Paul Kagame to carry on as head of state until 2034, who are we to criticise? "Millions of voting Africans want to re-elect leaders whom they believe have kept them safe and brought economic growth," he says.
This is an argument that has been discussed elsewhere and has numerous proponents and detractors, but it is the second purpose of Joyce's articles that is much weirder and more unnerving: he sets out to paint a disturbingly inaccurate picture of Congo-Brazzaville.
On 20 March, while Joyce was visiting the country, a presidential election took place and returned to power President Denis Sassou Nguesso with 60% of the vote. The incumbent's victory came as no surprise, but the lengths he had gone to previously in order to be eligible to run in the first place have raised eyebrows.
[See: President Sassou Nguesso prepares for final stage of his constitutional coup: elections in the Republic of Congo]
According to the Republic of Congo's 2002 constitution, presidents can only have two consecutive terms in office and candidates can be no older than 70. At 72 and approaching the end of his second term, Sassou Nguesso's race seemed to be run, but last October he organised a referendum that would remove both of those pesky prohibitions. According to the electoral commission, over 90% of voters approved the amended constitution, paving the way for him to run again.
Joyce may well be right that Western governments' preoccupation with term limits strikes Africans as bizarre or brazen. And he might also be correct in implying Sassou Nguesso would win a free and fair election, asserting that the president "is as popular as the Congo's progress under his leadership would seem to justify". However, what are inexcusable are the liberties he takes in his description of Congo-Brazzaville, its government and recent election.
"A broadly functioning democracy"?
To begin with, Joyce claims that Congo-B "is a broadly functioning democracy". However, this description fails to inform the reader that, apart from a five-year hiatus in the 1990s, Sassou Nguesso has ruled Congo-B since 1979. In fact, for more than a decade, the president ran the country as a Marxist-Leninist one-party state and only held multiparty elections in 1992 as the result of domestic and international pressure. Sassou Nguesso lost that election to Patrice Lissouba whom he then ousted in 1997 in the second of two civil wars fought by the two men.
After introducing a new constitution, Sassou Nguesso was elected as president in 2002 and 2009. Yet both these elections were heavily contested by opposition parties and, in reference to National Assembly elections in 2012, Freedom House reported that the elections "were marred by accusations of fraud, low voter turnout, and post-election violence".
However, we don't need to even go that far back to doubt the quality of Congo-B's "democracy". In the run-up to Sassou Nguesso's move to alter the constitution last year, the opposition refused to participate in the 'national dialogue' that would smooth the way for the constitutional referendum and called on its supporters to boycott the vote. Before the polls, demonstrations turned violent and, according to Amnesty International, the Congolese security forces killed at least 16 protesters.
Then, after the vote, authorities reported that 92% of voters had approved the amendments on a turnout of around 72%. By contrast, a spokesman for the main opposition platform claimed that only about 3% took part. Both sides likely exaggerated, but the key point is that it was indisputably not a fair fight. As Paul Melly of Chatham House said at the time: "The government controls the electoral process very strongly. Most opponents know they are fighting a very unequal battle, and very many voters cannot see any point in participating at all…Anecdotal, on the ground evidence suggests that the turnout was very low in many places."
Nevertheless, for good measure, security forces surrounded the house of opposition leader Guy Brice Parfait Kolélas a couple of days before the election and kept him and 25 supporters under house arrest for nearly two weeks. Meanwhile, according to Amnesty International, "From July to October, there was a wave of arrests of political opponents protesting against the constitutional review".
The organisation of the March presidential election while Joyce was in the country was equally one-sided. To begin with, the European Union decided in February that it wouldnot be sending a team of electoral observers at all after it claimed reforms introduced in January were insufficient to guarantee a transparent vote.
Then, once polling booths had closed, Congolese police arrested a candidate's campaign manager and fired teargas at opposition supporters on several occasions, including ahead of a news conference planned to denounce the election. Policemen also beat up three foreign reporters and confiscated their equipment. Five defeated candidates, including those who came second and third, said the polling was characterised by "massive fraud".
The day after the vote, a US official issued a statement echoing these concerns, referring to the "numerous reports of irregularities that have raised concerns about the credibility of the process, including the media blackout during the polls, an imbalanced and restrictive media environment, significant disparity in access to state resources, a short timeframe for electoral preparations, and restrictions on freedoms of expression, communication, and association in the pre-election period".
Not every allegation of an abuse of power by Sassou Nguesso will necessarily withstand examination, but the sheer accumulation of such criticism, from domestic and international sources, surely merits recognition. Not for Joyce, it seems.
An "exemplary member" of the EITI?
Another assertion Joyce makes is that: "Oil has helped fuel economic growth over the democratic, post-Marxist period since early this century". Let's address this claim next.
It is true that Congo-B is one of sub-Saharan Africa's largest oil producers, pumping nearly 300,000 barrels per day, and that the economy has grown; the IMF notes that GDP grew at an average of 5.2% annually between 2010 and 2014. However, what Joyce obscures in his rosy description is the fact that the oil-driven growth has not positively impacted the lives of ordinary Congolese and that it has overwhelmingly benefitted a tiny sliver of the population, in particular the president's family and friends.
Oil prices soared in the 2000s and remained persistently high until a precipitous crash in 2014. During this time, billions of dollars poured into the Congolese treasury. Yet despite consistent GDP growth, the IMF states that Congo-B "continues to suffer from high rates of poverty and inequality". It claims that the government has made "slow progress" improving its human development indicators which "is reflected in the national poverty headcount ratio which declined by only 4.2 percentage points from 2005 to stand at 46.5 percent in 2011". Rural poverty even increased in that period to nearly 75%.
Congo-B's population can justifiably ask what, if anything, they got out of the boom, but some certainly did profit. And at the front of this queue are Sassou-Nguesso, his family and their chums, a fact that makes Joyce's portrayal of benign economic management even harder to fathom.
After all, in 2011 and 2012, Joyce used his status as an elected British politician to draw attention to flagrant misuse of natural wealth by the government of the Democratic Republic of Congo, just across the river from Congo-B. Ahead of the re-election of President Joseph Kabila, his government signed a raft of deals with offshore companiesgiving them control of significant mining concessions that previously belonged to the state. The anonymous shells were allegedly controlled by Dan Gertler, an Israeli businessman who is friends with Kabila and has a track record of securing lucrative assets from his pal's governments at prices generally deemed well below market value. Joyce dedicated significant time to investigating the DRC's dealings and concluded that the country's "natural resources…are not being used as a legitimate source of revenue for the people".
If only Joyce was equally concerned about similarly shading dealing across the border! For in Congo-B, the presidential family is currently being targeted by French investigators following a complaint filed by an anti-corruption NGO in 2007. According to press coverage from late-2013, the Sassou Nguessos had brought €60 million ($68 million) into France and had bought at least 20 luxury properties in Paris. The president reportedly spent €1.18 million ($1.3 million) on shirts and suits between 2005 and 2011, while his son, Denis-Christel, dropped half a million Euros on shirts in the same period. William Bourdain, a lawyer for Transparency International, has characterised Sassou-Nguesso as "a caricature of kleptocracy, of a rich head of state that leads a poor country".
Denis-Christel is often described as his father's apparent dauphin and holds a senior director position at the national oil company, the SNPC. He is the kind of high roller who reportedly spent millions of Euros renovating a Parisian mansion in the style of 'Napoleon Empire'. In 2007, Denis-Christel lost a high profile court case in the UK during which he attempted to prevent anti-corruption watchdog Global Witness publishing company records and credit card statements indicating he had paid for goods worth hundreds of thousands of dollars with money deriving from the sale of state oil.
More recently, in 2015, a Swiss anti-corruption NGO published a report accusing Denis-Christel of abusing his position at the SNPC and giving an unknown Swiss trader run by a friend "an exclusive contract to export petroleum products with no public tender process and under highly questionable conditions". It found that the trader had immediately sold the oil on to third parties and "pocketed substantial profits for zero logistical effort", adding that the favourable deal was "granted at the Congolese population's expense".
There is also Denis Gokana, a man who could be seen to hold a position analogous to that of Gertler in the DRC. A confidante of Sassou Nguesso, Gokana is simultaneously chairman of the SNPC's board and founder of Africa Oil & Gas Corporation (AOGC), a private company. In 2005, Global Witness determined that Gokana had "been secretly selling hundreds of millions of dollars in cut-price oil to private companies he himself owns". The NGO calculated that by selling under-priced oil this way Gokana had denied the treasury of around $20million. As Rachel Owens, a senior campaigner at Global Witness, explains, "much more transparency is needed around who is really benefiting from Congo's oil sector".
Yet immune to the evidence, Joyce writes positively of Congo-B's oil-fuelled growth and, in the New Statesman, claims the country is an "exemplary member" of the Extractive Industries Transparency Initiative (EITI), "the leading world body that works to assure transparency in the extractives sectors".
That Joyce is no neophyte in African matters makes his outlandish falsifications of the Congolese reality all the more bizarre. He should not be susceptible to the kind of slick whitewashing and apologetics in which a global industry of autocrat-friendly lobbyists excel. I have read and re-read the articles – and then read them again. Thoughts collected, it remains difficult to avoid the conclusion that, for whatever reason, Joyce has opted for a post-parliamentary life as the propagandist of a corrupt despot.
*African Arguments.William Clowes is a journalist based in Kinshasa, Democratic Republic of Congo. Follow him on Twitter at @WTBClowes.