Amokachi: I've Come To Open Doors For African Coaches In Europe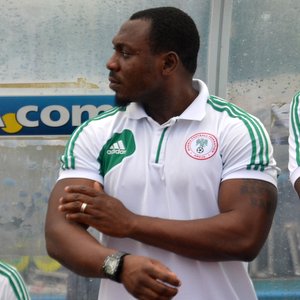 When Daniel Amokachi touched down in Finland at the end of January to take on his new role as head coach of second division side JS Hercules, it was like nothing he had ever experienced before. A far cry from the searing heat of his native Nigeria, the 1994 CAF Africa Cup of Nations winner arrived at Oulu, a city just a two-hour drive from the Arctic Circle, to link up with the semi-professional Finnish outfit, his first managerial job in Europe.
"Freezing was the not the word, that's an understatement – it was minus 35 degrees (Celsius) when I arrived!" he laughs, speaking to FIFA.com in an exclusive interview. "I was leaving a country that was roasting, about 38 degrees when I left Nigeria. The day before I traveled, I checked the weather forecast with my wife and she joked: 'Do you really want to go?' [laughs] I said 'Of course!'. The weather in Finland is an obstacle but with all obstacles when you're trying to achieve something, you throw them out the window.
"The outdoor pitches are frozen and everything we do at the moment is indoor. You have a number of other teams using those facilities and it's hard to get a full pitch to yourself, which can make the program you're trying to lay down difficult. But I am a Nigerian, an African. I'm used to challenges and I would love to see it through."
Opening doors
A former assistant manager of the Nigerian national team – and later interim manager of the Super Eagles – Amokachi's move to manage a semi-professional Finnish side came as a surprise to many. For Amokachi, the role possesses enormous personal significance. The 43-year-old, who describes the job as "the biggest challenge" of his managerial career, hopes a successful stint at the Finnish outfit will see an increase in the number of African managers getting managerial roles in Europe.
"It is my first experience as an African manager coaching in Europe and there are not many Africans who are head coaches in Europe," said the former Club Brugge, Everton and Besiktas star. "They are giving me a platform as an African to showcase what I can do and if I do well, it's an open door for other African coaches."
International focus
Despite being three-time continental champions, Nigeria's failure to reach the 2017 Africa Cup of Nations was confirmed last month. The Super Eagles slipped to a defeat against Egypt in the preliminaries, who claimed the qualifying group's only place at Gabon, meaning the heavyweights will miss back-to-back continental championships.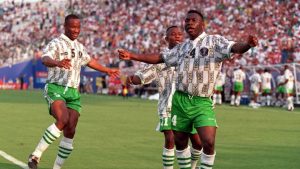 "The players when return to play in Africa on international duty forget to switch [mentally]. It's something that we kind of struggle with – not only as Nigerians, but as Africans," said Amokachi, who was assistant coach of the national team when they last won the tournament in 2013. "You play in Europe and everything you get is professional from A-Z and then when you come to Africa, the likes of transportation and accommodation can seem a distraction.
"The players forget to switch to being an African when they come back and that always makes them perform less than what they do at club level. I'm sure that has contributed to Nigeria not making it to back-to-back championships. Not qualifying for the tournament is not good enough for a country like Nigeria, but that's football. It makes you sit up and say: 'We have a lot of work that needs to be done.'"
Striking gold in '96
During his time as a player with the Super Eagles, Amokachi came to know all about the success reaped by hard work. August 2016 will mark 20 years since Nigeria made Olympic football history by becoming the first African team to win the gold medal. Nicknamed 'The Bull', Amokachi was a pivotal part of the side that included national icons such as Jay-Jay Okocha, Taribo West and Nwankwo Kanu to name but a few, scoring in the final as his side came from behind to defeat Argentina.
For the country, Nigeria's success was even more significant for reasons beyond football, acting as an example of how the beautiful game can offer respite during difficult circumstances. "Back then Nigeria was on sanction from the United Nations and the football that we played during the Olympics made Nigerians forget about the problems they were going through by focusing on football," said Amokachi.
"The manner in which we did it made us incredibly happy. Playing the giants of South America and then coming back from behind against the likes of Brazil in the semi-final and Argentina in the final. "It was an incredible experience being an Olympian and winning a gold medal. It's something that I'll cherish all of my life."
*Source FIFA.com