Alain Ebobissé appointed Chief Executive Officer of Africa50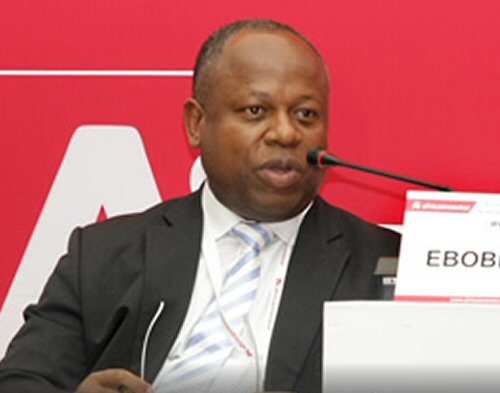 Abidjan, Côte d'Ivoire, April 7, 2016 – The Board of Directors of Africa50 is pleased to announce the appointment of Alain Ebobissé as Chief Executive Officer of Africa50, the Pan-African infrastructure investment platform capitalized by the African Development Bank and, so far, by 22 African countries with an initial capitalization of US $830 million.
 The Africa50 fund was created at the initiative of the African Development Bank (AfDB) and officially launched in Morocco in September 2014. Its initial capital of US $830 million was provided by the AfDB and contributions from 22 countries.
"I am delighted to welcome Mr. Ebobissé to Africa50," said Akinwumi Adesina, President of the African Development Bank and Chairman of the Board of Directors of Africa50. "His extensive experience and recognized global leadership in infrastructure development will be critical as we build Africa50 into an effective and successful infrastructure investment house widely recognized as a leader in infrastructure project development and investment in Africa, with an excellent reputation and credibility within the continent and beyond."
A citizen of Cameroon, Alain Ebobissé is a renowned specialist in the financing and development of infrastructure and knows the African continent well.
"I am excited about the opportunity to lead Africa50 and serve Africa and to work with Government partners and private investors to develop and fund a large number of bankable infrastructure projects in the continent on the basis of strong commercial discipline and sound investment principles," stated Ebobissé. "I look forward to working with the Board of Directors and to building a highly skilled and experienced team of infrastructure investment professionals that will enable us to help transform the African infrastructure landscape," he added.
 "Mr. Ebobissé is well recognized global leader in the area of infrastructure finance and development. He has an impressive track record of global leadership in successful development of private, and public-private infrastructure development, structuring, financing and equity investment in emerging markets," said Adesina.
 Prior to joining Africa50, Ebobissé served as the Global Head for the World Bank Group's Global Infrastructure Project Development Fund ("IFC InfraVentures") where he oversees a team of highly skilled and experienced infrastructure specialists and leads the development of and investment in several infrastructure projects in Africa, Asia, Europe and Latin America.
 Ebobissé has led the design, structuring and implementation of IFC InfraVentures from its inception. Ebobissé also serves as Chief Investment Officer in the Global Infrastructure and Natural Resources Department of the International Finance Corporation (IFC), the private-sector arm of the World Bank Group, based in Washington. Prior to joining the IFC in 1998, held several positions in the financial services industry in France, including as Deputy Head of Project and Structured Finance at Caisse des Depots et Consignations, based in Paris. Ebobissé holds a Master of Business Administration from the International School for Management Development (IMD) in Lausanne, Switzerland.
 In order to finance its infrastructure, it is estimated that Africa would need US $95 billion per year. In 2012, African Heads of State therefore issued a joint declaration on the Programme for Infrastructure Development in Africa (PIDA) calling for the creation of innovative solutions to facilitate and accelerate the deployment of infrastructure in Africa. It was this call that led to the launch of Africa50, a corporation operating on commercial terms with the support of the AfDB and several African countries.
  Africa50 is a specialized international financial institution established by the African Development Bank and African countries to help accelerate infrastructure development in Africa. Africa50 held its Constitutive General Assembly on the 29th of July 2015 in Casablanca, Morocco. The countries who have so far committed funds to Africa50 are: Benin, Burkina Faso, Cameroon, Congo, Côte d'Ivoire, Djibouti, Egypt, Gabon, Ghana, Kenya, Madagascar, Malawi, Mali, Mauritania, Morocco, Nigeria, Niger, Senegal, Sierra Leone, Sudan, The Gambia and Togo. While the first closing was available only to African countries, it is anticipated that the second and subsequent closings will be available not only to African countries that are yet to invest in Africa50, but also non-sovereign investors both in Africa and outside Africa with a target to raise US $3 billionover the medium term to invest in commercially viable infrastructure projects across Africa. Africa50 is incorporated in Casablanca, Morocco and enjoys certain privileges and immunities. Africa50 is committed to the highest standards of corporate governance and ethical, environment and social responsibility. 
*AFDB