AfDB Group announces US $549-million drought response package for Eastern and Southern Africa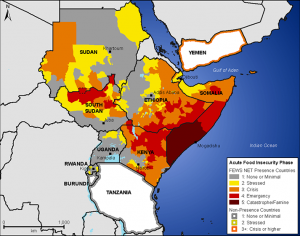 Abidjan, Côte d'Ivoire, April 1, 2016 – The African Development Bank (AfDB) Group President, Akinwumi Adesina, announced Friday a relief package of US $549 million in support of 14 countries most affected by the ongoing drought in Eastern and Southern Africa. The AfDB acknowledged the severe impact of the El Niño weather pattern that is associated with abnormally high temperatures and the worst drought the region has seen in decades, leaving almost 36 million people in need of food assistance.
The drought response package announced by the AfDB Group consists of US $5 million in emergency relief and US $361 million in short-to-long term support from various windows of the Bank's financial instruments. This amount represents new financial resources. Also, the AfDB will put in place a mechanism that would ensure faster disbursements of funds in ongoing projects, which were designed to build the affected countries' resilience to drought. This will make available an additional amount of US $183 million in 2016.
The AfDB Group President also noted that cycles of drought and floods are natural phenomena integral to tropical weather and climate systems. However, in recent years, droughts and floods have been occurring with increased severity, frequency and variability in many parts of the Africa. Currently, Eastern and Southern Africa are experiencing severe droughts that have disrupted crop and livestock production systems in about 14 countries. The increased frequency and severity of droughts is linked to global warming due to greenhouse gas emissions. Adesina also said that African agriculture is nearly 95 percent rain-fed – thus highly vulnerable to fluctuations in rainfall patterns.
Noting the urgency for this response, President Adesina emphasized that there will be greater flexibility in the use of AfDB's financial instruments, speeding up disbursements.
The President travels to Mozambique and Malawi, two countries affected by extreme droughts, on April 4-5.
*AFDB