I WILL CRITICALLY REVIEW BUDGET PASSED BY NATIONAL ASSEMBLY BEFORE ASSENTING – PRESIDENT BUHARI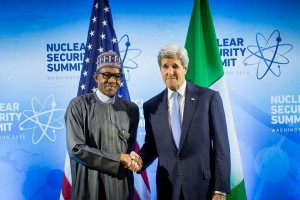 President Muhammadu Buhari said Thursday in Washington DC that he will critically review the 2016 Appropriation Bill passed by the National Assembly before assenting to it.
Speaking at a meeting with the United States Secretary of State, Mr. John Kerry, President Buhari said that in view of the controversial alteration and padding of the budget proposals, he needed to review the appropriation bill to be certain that its contents tallied with the authentic budget proposal presented to the National Assembly.
"Some bureaucrats removed what we put in the proposal and replaced it with what they wanted. I have to look at the bill that has been passed by the National Assembly, ministry by ministry, to be sure that what has been brought back for me to sign is in line with our original submission," the President said.
Declaring that his administration will continue to vigorously prosecute its war against corruption, President Buhari sought and received an assurance from Mr. Kerry that the United States Government will facilitate the repatriation of all stolen Nigerian funds found within the American banking system.
"It will greatly help our country if you assist us to recover all our stolen funds which we can establish to be within your financial system," the President told Mr. Kerry.
Responding, the Secretary of State said that he has been told that the stolen Nigerian funds were in "billions of dollars".
"It's not easy to hide that amount of money and we are pretty good in tracing them," Mr Kerry assured President Buhari, adding that relevant United States Government Officials will meet with the Chairman of Nigeria's Economic and Financial Crimes Commission to discuss further cooperation in that regard.
Mr. Kerry applauded the Buhari Administration's success in rolling back the Boko Haram insurgency, saying that the United States will continue to give Nigeria all possible support to ensure that the terrorist sect is finally eliminated as a threat to national and regional security.
The Secretary of State also praised President Buhari's clear order that Nigeria's Armed Forces must show greater regard for the human rights of persons in the theatre of operations against Boko Haram.
Acknowledging that the United States has been of great help to his administration in the retraining and re-equipping of the Nigerian Armed Forces that has resulted in the significant success already achieved against Boko Haram, President Buhari said that the Federal Government was now working very hard to restore full normalcy in the North Eastern states.
"Boko Haram no longer holds any local government area. We are reconstructing damaged facilities and preparing the police to take over and reassert civilian control over areas affected by the insurgency," the President told Mr. Kerry.
*Source Femi Adesina ,Special Adviser to the President
(Media & Publicity)