Troubling Vestiges of Apartheid
By James N. Kariuki*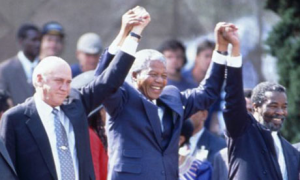 On February 3, 2016, a relatively new organization called Anti-Racism Action Forum (ARAF) lodged 22 criminal charges against South Africa's  former president, FW de Klerk (FW), for crimes committed against Blacks between 1990 and 1994. What is the story behind the dramatic news?
 When apartheid finally collapsed in the mid-1990s, the SA Parliament established the Truth and Reconciliation Commission (TRC) as a mechanism to cleanse the country of its past political sins. For the preceding four decades, the body politic had endured ravaging, racially-driven abuses. 
 Hopefully, the TRC would drain infections of human rights violations of 1960 – 1994 and help the country out of its globally-acknowledged outcast status. The TRC was empowered to pardon political crimes, including killings, to boost the spirit of forgive-and-forget. The only requirements for amnesty seekers were full disclosures and affirmation that their crimes were politically-motivated.
  The incumbent president of the early 1990s, FW, did not approach the TRC for a pardon. To him, forgiveness was unnecessary because, he had done no wrong. As he put it, his conscience was clear.
 Yet, FW's nemesis Eugene de Kock, disagreed. He was adamant that FW's hands were 'soaked in blood' of political killings. In his capacity as the leading assassin for apartheid's officialdom, de Kock was in a position to know some secrets.  Who of the two was telling the truth? 
 History spared FW of immediate, in-depth legal probing in the 1990s for understandable political considerations. To begin with, once the future of apartheid became doubtful, FW quickly established himself as a vital link between the contesting forces in the bid to transform SA's political landscape. And his credentials for the task were indeed compelling.
FW was astute enough to detect and acknowledge that apartheid was doomed. Further, he was sufficiently bold to insist on personal involvement in the process of shaping the next political order for the benefit of all. After all, he was the sitting state president. Who else could be entrusted with such a monumental assignment?
Secondly, thanks to FW, the iconic Nelson Mandela had freshly emerged from three decades of apartheid imprisonment professing a disarming attitude of forgiveness and reconciliation. He, his followers and a sympathetic world, expected SA to shed permanently traces of crippling apartheid to a nation of equals. In this euphoric atmosphere, Mandela and FW became two towering leaders-in-alliance which was captured in the joint 1993 Nobel Peace Prize.
Under these encouraging circumstances, FW became bigger-than-life in the quest to dismantle apartheid. He was leading from the front.  He had established access to the tenacious black liberation movements and had overwhelming backing of the privileged but tentative Afrikaner community.
Those forces converged, if uncomfortably, to cushion FW from serious probing about his possible involvement in past political atrocities despite de Kock pointing a finger at him. At that stage of SA history, FW's unassailable attributes were crucial to the survival of the body politic; his freedom and safety were non-negotiable.
The question still remained:  did FW walk away with unpardoned murders which could come back to haunt him?  Could the issue re-emerge as a 'storm deferred' for SA in the years to come?
Critics have traditionally doubted FW's commitment against apartheid on the grounds that it lacked compelling moral conviction. Specifically, he has never convincingly condemned the system on ethical basis, even though it reduced its non-white citizens to refugees in their own country.
 For falling short to condemn apartheid without reservations, the name of FW has continued to be intertwined with memories of apartheid and racism. To make matters worse, since he left office, he has increasingly embraced white causes making himself a 'political issue' more than is desirable.
 The first two months of 2016 have already witnessed excessive instances of volatile racism prompted by Penny Sparrow, a white woman whose Facebook post of January 2, 2016 referred to Durban beachgoers as monkeys. Racially-charged Tsunami of anger erupted in the social media raging from simple dismissals of Sparrow to stinging suggestions that white South Africans should be exterminated.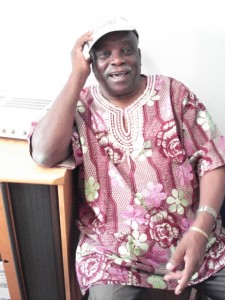 Through his foundation, FW joined the toxic exchange.  He admitted that Penny Sparrow was wrong for insulting black people but, in comparison, black people were more vibrant racists in their social media reactions. For that reason, the FW's foundation had submitted 45 complaints about social media postings by Blacks to the South African Human Rights Commission for investigation, claiming that such racially-charged postings could incite violence against white South Africans.  
  Psychologists advise against burying the past; we should deal with it. Yet, there is such a thing as unhealthy wallowing in the past. The Israelis, for instance, have been hunting down Nazi Germany's victimizers of Jews worldwide since the very establishment of the state of Israel to bring them to justice. Is ARAF's 2016 case against FW approaching a similar scale of preoccupation?
Nelson Mandela used to tell us to always remember that, in the Afrikaner, we are not dealing with a defeated enemy. His grandson, Chief Mandla Mandela, is now urging us to desist from action that may re-waken the ghosts of apartheid.
 *James N. Kariuki is a Kenyan Professor of International Relations (Emeritus) and now resident in South Africa.  He comments on public issues in various international publications.He runs the blog Global Africa