Niger's Washington Envoy Hassana Alidou Bags Leadership Award
By Ajong Mbapndah & Ben Bangoura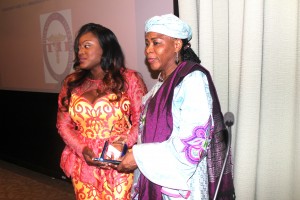 In celebration of the Women's History Month, Prof Hassana Alidou,Ambassador of Niger was honored with an award for leadership and service at the launching of the Women's Leadership and Empowerment initiative by Therapeutic Interventions  Inc.
 Prof Alidou, one of the only three currently serving African female Ambassadors to  Washington, was recognized for selfless services and serving as a trailblazer for women in Niger and Africa.
 Accepting the award at the Historic Fraser Mansion in Washington, DC, Ambassador Alidou said the recognition was a call for more hard towards the cause of women and humanity at large. The Ambassador used her own life experiences to remind the over 100 people in the audience that in life everything is possible. According to Ambassador Alidou, she lost her mother by the age of three, her father by the age of seven, and was raised by a Canadian Nun in the largely Islamic country of Niger. In the midst of all the odds, she rose to where she is today after having stints doing international jobs and teaching at the University of Niger and later in the USA.She expressed readiness to help in mentor-ship programs organized by Therapeutic Interventions Inc.
 To Fatmata Koroma ,CEO of Therapeutic Interventions Inc, Ambassador Alidou was a worthy role model that young African women could emulate. Fatmata, who got a standing ovation for her tireless activism on women's rights, said more women like Ambassador Alidou were needed so that young African girls could learn from. The CEO for Therapeutic Interventions Inc who also runs a beauty pageant for Africa, got high marks from the participants following brilliant submissions of life changing projects from some of the young women she works with.
 The  evening emceed by Jeannine B.Scott of the USA-Angola Chamber of Commerce  , and rich in symbolism, was graced with the presence of Ambassador Joseph Smith of Ghana and Ambassador Tiena Coulibaly of Mali who were held spell bound by the performances of the talented young women show casing the potentials of Africa.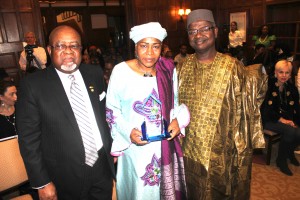 Celebrity performer Anna Mwalogho brought the hall to its feet several times with sketches heaping praise to the toughness and resilience of the African women, the cultural shock of Africans making it to the USA, and the pride in maintaining one's identity.
 "The success of the evening was beyond expectations," said Fatmata Koroma of Therapeutic Interventions Inc. which organized the event with the support of ABB Productions LLC. The huge turnout and uplifting messages were enough inspiration to help her in the crusade to empower and give young African girls a voice, she said. Up next for her will be a beauty pageant in June during which which more African talent will be on display.