MUGABE: ZIMBABWE STILL LOVES ME
BY CONOR GAFFEY*
Zimbabwe's President Robert Mugabe says that he has no plans to retire because his countrymen don't want him to.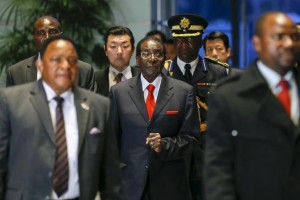 The 92-year-old, currently Africa's oldest serving head of state, traveled to Japan this week in a trip aimed at strengthening bilateral relations. The topic of Mugabe's potential successor is much debated in Zimbabwe, with the president's wife Grace and Vice President Emmerson Mnangagwa viewed as two of the leading candidates. Mugabe also stoked speculation he could retire recently by indicating that veterans of Zimbabwe's independence war, in which he fought, had suggested he had "overstayed" his tenure .
Speaking to journalists in Tokyo on Tuesday, Mugabe said that the Zimbabwean people still think he is the best man for the job. "You just go to Zimbabwe now and ask the people whether I should stand down. They will be angry with you," said Mugabe, according to Zimbabwe's state-ownedHerald newspaper.
Mugabe also indicated he would stand as the ruling Zanu-PF party's candidate at presidential elections in 2018, should his health permit it. "At the moment I am the President, that's why [I am here]. Do you see me as not fit? Why not contest two years later?" said Mugabe.
The Zimbabwean leader came to power in 1980 and has been accused of rigging elections to stay in power, which he has denied. Mugabe was elected in 2013 with 61 percent of the vote in an election denounced as "fraudulent and stolen" by opposition leader Morgan Tsvangirai.
Joice Mujuru, a former Zimbabwean vice president and close aide of Mugabe, recently launched a new opposition party called Zimbabwe People First in a bid to challenge the president's grip on power. But unless he is voted out, it seems Mugabe will be around for a while to come—the Zimbabwean leader recently said he wants to live until he is 100 and wishes to remain president for life.
During Mugabe's visit, which ends on Thursday, Japanese Prime Minister Shinzo Abe pledged a 600 million yen ($5.3 million) grant to help fund a road project in Zimbabwe and hailed Mugabe as an "iconic leader." The Zimbabwean head of state, however, appeared to doze off while standing shoulder to shoulder with Abe at a press conference on Tuesday.
*Source Newsweek