Ivory Coast is open for Business says Ambassador Daouda Diabate
By Ajong Mbapndah L & Ben Bangoura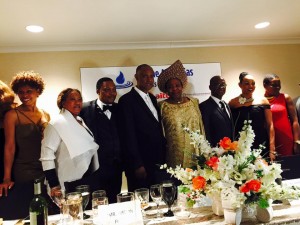 Daouda Diabate, Ambassador for Ivory Coast to Washington, DC has made a strong pitch to foreign investors to take advantage of the opportunities in his country.
Speaking at the Power Africa Dinner hosted by the Africa Gas Association, TAGA, Ambassador Diabate painted a rosy picture of the myriad of investment opportunities available in the West African Country. Ivory Coast remains the undisputed leader in the world when it comes to the production of Cocoa and other agricultural products that are used the world over said Ambassador Diabate.
His country is also working hard to remain the bread basket of the sub region, Ambassador Diabate said. With a sustained high growth rate for the last couple of years and a more stable political climate, Ambassador Diabate said the current government of President Ouattara has also worked hard to make the investment climate more friendly in the country. Within 24 hours , it is possible to open up a business in Ivory Coast. Though not yet a power house in Africa when it comes to oil and gas, Ambassador Diabate said prospects were looking good with American companies like Anadarko running operations in the country.
Hosted by TAGA, the Power Africa Dinner which took place on 5 March 2016 in Silver Spring was a crowd puller with corporate personalities, civil society leaders, media personalities and high profile actors in the sector in attendance.
Mel Foote of the Constituency for Africa called for greater synergy between Africans and its partners in the diaspora as the continent seeks to change its fortunes. With the dip in the price of oil, there was need to focus on alternatives like gas and Africa has no shortage of this he said.
With Corporate Social Responsibility as one of the themes of the event, Ayodele Emmanuel, Chairman of Tenis Shipping Services who flew in from Nigeria said it was very important for companies to give back to the communities where business is been done. Using the example of his company, Ayodele said, Tenis Shipping has built and equipped a hospital to boast the health needs of citizens in a local community in Nigeria.
If Africa has to continue making progress, women have to play a leading role said Angelle Kwemo of Believe Africa Foundation to rousing applause. According to Kwemo, while the potentials of Africa are real, there is nothing that can be achieved without peace.
Visibly satisfied, Anne Etoke, CEO of TAGA expressed the hope that the networks cultivated by participants during the event will be sustained for mutually beneficial purposes.TAGA will continue to play a leadership role, share opportunities and facilitate dialogue and networking opportunities between stake holders and was open to working with even more partners in future she said. The event was emceed by Award Winning International Fashion Designer Uche IbezueI and Emmy Awards Winner & News Anchor of ABC 7 Channel 8 News., Jummy Olabanji.