From Motivational Speaker to Author, Oliver Asaah hits the music circuit
-Debut Album launch set for March 26, 2016 in Bowie,MD
By Ajong Mbapndah L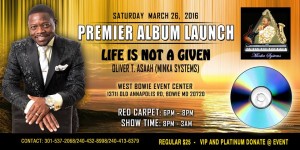 Building on his motivational speaking and book writing prowess, Oliver Asaah is taking his creative genius a notch higher with the imminent launch of his debut album titled "Life is Not a Given." Music has always been part of me says Oliver as he talks passionately about preparations for his album launch on March 2016 in Bowie,MD, books and post album projects
Mr. Oliver Asaah, we understand you are launching your maiden album later in March; can you introduce the album and its contents for us?
The album goes under the name Oliver T. Asaah (Minka Systems). Minka Systems is a band in the making. The title of the album is: "Life Is Not A Given". The album is diversified in music genres and it has eight tracks plus three instrumentals with philosophical ideas and proverbs. The Minka Systems is part of my Triple Plate organization; Wealth Pool Industries. Minka Systems is the music arm, Minka Series is the writing arm and Minka Inspire is the speaking, training and coaching arm. I realized that in life, you never really get satisfaction until you do the things that are your strength and passion. That's why I went back to my core talents (speaking, writing and music), after doing so many activities in life.
May be a story will drive the message home. I started my public speaking in secondary school as Master of Ceremony and others. In 1996, I was the Douala Chapter general secretary and also the National General Secretary of Seat of Wisdom Ex-students Association (SWESA). The college was celebrating its 30th anniversary that year and I was slotted to deliver a keynote at the symposium. The topic was: "How to meet SWESANS out of college". A lot of ex-students were not active in SWESA. When I examined the topic, I realized that it could be interpreted in two ways: what can we do to meet SWESANS out of college or what does meeting SWESANS out of college means to us? I decided to choose the former interpretation to bring ideas on how to encourage and attract more SWESANs to participate in the association. If more SWESANs were engaging in the association, it would give more meaning to the latter interpretation.
Anyway, I delivered a landmark speech at that event. When it was time for questions and answers and observations from the big and diversified audience, Mr. Joseph Nkwokro Nojang of blessed of memory was second to take the floor and was in awe of the ideas in the speech. Then a setback came from Miss Gen Dube, the able principal of the college at the time. In her words which I remember like yesterday she stated: "Oliver, that was a great speech, but I am afraid the college students sitting there did not quite get your message; the level was a little too high for them". I hit my chest and that remark shaped my future speaking engagements. Remember, I had just graduated from law school. After that day, I always size up my audience and that determines my choice of words and expressions in my speaking engagements.
So what genre of music have you worked on for the album and what are the messages you seem to send across?
I worked on several genres in this premier album. This is salsa, soul, makossa, zouk, Hiphop-rap and classic rock. Often people take life for granted and wait for their desires to happen to them; it is a fallacy and a fantasy. Your desires and aspirations must be carved into a dream and then laid out step by step into achievable goals using the SMARTER Goal concept.
Next, you design a strategy or a road map on how to accomplish them. Step out of your comfort zone and take massive action irrespective of all stumbling blocks that may belie your route to success. This is what COMFORT means to me: Come over Merely for Open Rapport Trail. ZONE (Zenith Offsets Needed Effort).
Your dream therefore must be so big you spend your entire life pursuing it. That is the only way not to assume that you have reached the zenith at any point in time and start resting on your laurels. The album therefore is filled with motivational ideas and strategies to advance in life, seek teamwork and that we are complementary to each other.
A few expressions we see in some of the promotional content, Minka systems, what does it mean?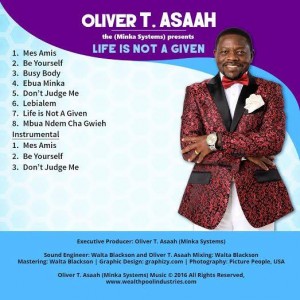 Minka Systems is my musical band in the making. It is one of the three arms of the Wealth Pool Industries as mentioned earlier. The March 26 launch event is a red carpet event with lots of celebrities and VIPs coming from about 15 states, Canada and Europe.
And a little more about you, how did Oliver Asaah get into music?
My father, Asaah Fominka, later Nkemamin, had a big compound on top of the hill, in his gigantic fenced compound. He was a farmer rearing goats and sheep. Early in the morning he would make a sound and all the animals would assemble in the yard and he would give them salt before letting them off into the fields to feed. One fateful morning when I was about 6 years old, I was standing at the veranda as he performed the animal salt ritual. I sighted an airplane flying in the sky and imagined that passengers on board were singing a song and enjoying themselves. I instantly composed a song and started singing and dancing to my own composition. As the song reached its climax, I sang and danced all the more. As I nodded back and forth in my excitement, I did not notice a big ram approach. I assume the ram thought I was challenging him to knock horns so it came straight at me and knocked me off balance. I landed on my back among the animals. Dazed and confused, I thought it was my brother Columbus who had pushed me over. But on looking around, Columbus was nowhere in the vicinity. Rather it was my father who stood there having a good laugh.
I learned my lesson; but that didn't stop me from singing and dancing. I just had to make sure there was no ram around to knock me off. That is to say music has always been in my blood. I took this same spirit to secondary school with competitions in which I excelled and earned multiple nicknames. I am thinking of writing a book on nicknames and their influence on people and society.
What were some of the challenges you faced in the production of this Album?
Like every new endeavor and industry you get involved, there is a lot to learn especially if you want to leave a mark. Learning the process of music production, finding the money; without a sponsor, it is tough. I am a music junkie and I am talented in multiple music genres so it becomes challenging to decide what genre to settle on. That's why this premier album is so much diversified leaving my audience and fans to have a feel of the menu I offer and decipher which meal is most appetizing to them per my strengths. Nevertheless, I love salsa and really want to fill the gap left by my friend Pierre Tchana after his passing years ago. I will ex-ray the Lebialem culture and tradition and finally I tackle the business community with a new music application which brings success principles, strategies and motivation to the entrepreneurs in music form. I want all entrepreneurs to dance and feel their dreams, goals and aspirations to manifestation like never before.
We also understand that you are an author; can you tell us something about the books you have written?
Oh yes, writing is a passion and a talent for me. I have been writing since secondary school, but never really published until 2010. I have a great collection of poems not yet published. I coauthored my first book in 2010, with other authors: "The Arts and Science of Success". It is a compendium of success strategies shared by multiple writers. My contribution in the book was the strategy I used to reprogram my subconscious mind which I decided to share to the benefit of anyone who dares to use it. This was a precursor to my first solo book, "The Broken Bond" published and launched in 2014.
The Broken Bond is an attempt to tame the beast ravishing relationships especially among Africans in the diaspora stemming from my personal experience from a broken relationship. The Broken Bond therefore is a true story. It is making news in readers' circles and on amazon.com. It is a relationship handbook whether you are unmarried and vying for a relationship,( the dating curve) in the book will guide you; if you divorced and just want to live a single life, the chapter on individualism, Leave the Fetters Behind, Flowers of life and more will help you; if you are married and your marriage is suffering, chapters like letting go, 5 Cs of relationships, the 10 commandments of relationships, Flowers of life and more will help you; if you are married and want to take your marriage to another level, chapters like: what God put together, True thriller stories, Little Drops of Care, and more will help you or if you just want to motivate and inspire your life using a holistic approach, chapters on the subconscious mind, effective communication, and more will help you . If you want to learn about Lebialem marriage culture and more, chapters like: Atayo Syndrome, marriage contract in Nweh, Courting process, Nucleus of family and more will help you. I share some of the principles and strategies I personally use to do the things I do.
Where does Oliver Asaah get his inspiration, to write his books, and now a musical album?
My inspiration started from my parents who are my role models. Interestingly, my father Nkemamin formerly Asaah Fominka and my mother Emerencia Agendia both of blessed memory did not go to school but knew the value of education and their characters exerted tremendous influence on me. I learned a lot from my parents growing up. The most important and memorable lesson from my father was and remains to never be envious, jealous of or belittle other people's belongings; instead, to emulate and even do better than them.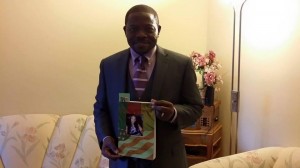 Another very vital lesson, he gave me was and is to be accountable and always know that trust in someone or something does not exclude crosschecking to make sure all is well. One day, he handed me some money as part of my tuition when I was in Our Lady Seat of Wisdom. When I tried to shove the money into my pocket, he yelled at me so hard I nearly passed out. I had not counted the money in front of him to confirm the amount.   He advised me to always count money that is given to me right there in front of whoever gave to me to make sure the amount was accurate. I learned hard work, selflessness, and humility from my mother. I then sharpened the foundation I got from my parents with my own reading, listening, attending conferences, hosting events as MC for decades; everywhere I go, I set a goal for myself to bring back at least one new idea to add to my own portfolio.
When I was in Seat of Wisdom College, still in Form one, every day during evening studies, I read the dictionary for the first ten minutes. That exercise, took my vocabulary through the roof. My writing and speaking gave me the nickname: "Bombastic or Verbose". At one time, I was always selected to give an intention or prayer in church every Sunday. I didn't know why until a classmate of mine overheard Form five students gossiping my name after church. I was in Form three then. They were praising the way I framed the prayer and Richard, ran to me right away asking me: "Esoh", (meaning Buddy), "do know why you are chosen to give an intention in church every Sunday?" "No", I said, "The form five students use that to learn new words and expressions from your writing", he concluded. We laughed over and sure that encouraged me to do more.
About the album launch itself, can you share some more details on the event, venue, cost of participation, guest appearances and what participants should expect?
This Premier Album Launch is a red carpet mega event. It is the most important event in my life all things considered. I believe in celebrating life unlike death. Everyone that could come to my funeral should show up at this event. Another story; about thirty years before my father died, he summoned all his son-in-laws to give his burial clothing rites. In Lebialem culture, when your father-in-law dies, you are obliged to give a blanket for his burial. His philosophy was that out of his 25 children, the majority were girls and he did see how useful those many blankets would be on his passing on. They gave the blankets; he summoned his friends, shared most of them among them and kept two for himself. That is a great example of celebrating life as opposed to death. There are so many celebrities and VIPs attending this great event. Beauty pageants, like Miss Africa USA, Miss Guinea North America, Miss Cameroon USA, as well numerous actors, actresses, film makers, artists, designers, entrepreneurs, and people of all works of life and cultures are confirmed attending.
The event takes place on March 26, 2016 at the West Bowie Event Center, 13711 Old Annapolis Road, Bowie, Maryland, 20720, USA. From 6 PM – 8 PM, Red Carpet and champagne time. 8PM – 3 AM, Show time. Free all you can eat buffet and beverages. There will be a cash bar with a professional Bar Tender to Mix and Brew all kinds of drinks like you would find a standard bar. I will perform with dancers and backup singers. Featuring artists are Roxana Tazifor, MC Chido and Jaajo Mbadi. The DJ is I MEDI run by Mr. Amstrong Ikoh Awani. The videographer is Mr. Ako Richie of Cyber Globus all the way from Dallas TX. We plan on Live streaming the event so people can watch it worldwide over the internet. We will make the link available by the event date on the Minka Systems facebook page, e-groups and so on.
The Regular admission fee is $25.00 and VIP will donate at the event. There are other great options like the early bird registration package available on Event Brite link where people can register in advance online and bring their receipts to the event. Here is the link:
What next for Oliver after the music album?
After the launch, Oliver Asaah and the Minka Systems is ready for bookings and tours, We perform at cultural and business conventions, anniversaries, birth days, weddings, graduations, and all kinds of events. We already have four bookings in May and June 2016. We will do events in cities in USA, Canada and Europe in 2016. We are doing concerts in Cameroon in December, 2016 starting in Menji, charity begins at home. We plan on doing East and West Africa tours in 2017. I am already working on the next album, I have 300 songs composed. I am currently working on 6 books and plan to publish one book in 2016. Starting March 26, 2016, the Wealth Pool Industries triple plate is open for business: Speaking, Writing and Music. We need your support because we cannot do this alone.
Good luck with the launch and thanks for granting the interview
The pleasure is mine and I hope you come with your media friends to join us at the event.