The former Rwandan presidential adviser who founded his own bakery
He was once an adviser to the president of Rwanda, Paul Kagame, while he has also worked for Deloitte and the African Development Bank.
But it's an ambitious start up that's providing Kayobotsi with his bread and butter these days.
His Brioche chain of bakery and coffee shops started as a small self-funded endeavor in 2013. But it has quickly morphed into a hip local brand with locations across the Rwandan capital of Kigali.
"We do pastries of all kinds, we do "vienwas" (a type of croissants), pan choc-o-lates, raisin swells and we do specialty breads and baguettes," Kayobotsi says of his firm's key products. "We also have dishes like homemade pastas and burgers."
Brioche's early popularity in Kigali, a city of one million people, attracted the attention and support of local investors which enabled it to expand quickly.
"We saw that the market was responding very well. After a year we expanded to two additional locations," Kayobotsi says.
Key to this growth strategy has been a central kitchen and production facility where all products are made and packaged before being shipped to outlets for sale.
"In Rwanda and in the region we think this model is unique," Kayobotsi says.
"We are able to attract international experienced chefs that can come to that central location and produce goods that can be distributed on a wider scale."
His head chef is from Togo but has spent 20 years working in Belgium and can focus on making high-end items for sale in multiple locations.
This, he adds, is "a more European concept" and not a way of doing things many African food outlets have endeavored to master yet.
Branching out
As such, there are plenty of opportunities for the company to explore and potentially expand on the continent.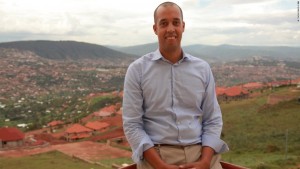 Brioche recently opened its first store in Nairobi, Kenya. The plan is to continue making everything at the central kitchen, delivering products to Nairobi by road every week.
"(Having a store in Kenya) sounded crazy, it still seems a bit crazy today," Kayobotsi jokes. "But we feel that we want to have the right level of ambitions and want to take risks to make the journey interesting."
Yet even with all its early growth, a word of caution for the future — Brioche has yet to make a profit. There is also no guarantee of success in the markets they seek to become established in where there may already be established competitors.
"Hopefully 2016 will be first year we make a profit," Kayobotsi says.
"We see that the demand for specialty bakeries and pastries is not so high but it exists. Even among the Rwandan population who are new to those products. We see the demand growing for better quality and better products," he adds.
*Source CNN