Fomunyoh lauds women and military as he bags man of the year award in Cameroon
Speech delivered by Ta Nformi-Cameroon Dr Christopher Fomunyoh on the Occasion of the "Man of the Year 2015 Guardian Post News Paper Award" Ceremony at the Buea Mountain Hotel – Cameroon
4th February 2015. Fomunyoh won the 2015 man of the year award.
The Lord Mayor of Buea, and Other Elected Officials,
Their Excellencies, Ambassadors and Members of the Diplomatic Corps
Their Royal Highnesses, Traditional leaders here present or represented,
Batonnier Emeritus of the Cameroon Bar Association, Barrister Ben Muna,
Other dignitaries here present,
Dear friends of the media,
Distinguished ladies and gentlemen;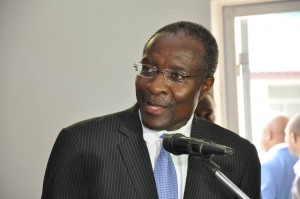 I am extremely pleased to be here today, as the recipient of the "2015 Man of the Year" Award launched by the highly reputable Guardian Post Newspaper, and now in its second decade of existence.
I am deeply honoured by this exceptional recognition and truly humbled that the jury arrived at its decision unanimously. I am also honoured reading through the pedigree of previous recipients — a current Head of State, Sultans and Fons, Governors and Ambassadors — and therefore feel very fortunate to be among the selected few onto whom this distinction has been bestowed.
I very much want to thank members of the jury for their wisdom in discerning where some may see and not perceive. I want to thank profusely, and from the bottom of my heart, the Guardian Post for its audacity in launching this award which, more than any immediate material benefits, raises the bar on all recipients who should strive to be better citizens, and positive and powerful contributors to a better humanity.
Some of you may remember that the late John Fitzgerald Kennedy, prior to becoming president to the United States of America, wrote a book on "Profiles in Courage" in which he recognized the powerful impact of people that stood up for what was right and just even when other immediate pressures and short term gains stood in their path. There is no doubt in my mind that the Guardian Post in giving me today's award, stands high on that pedestal; because no one can argue that the trends of the day seem to reward not the thoughtfulness, vision and humanistic ability to be each other's keeper, but rather the act of positioning one's self for some immediate and short term gains, no matter the likely devastating consequences for our country and its future.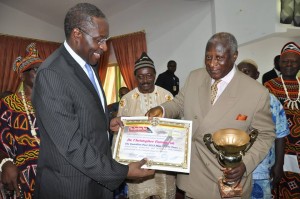 I thank you for your forthrightness and your professionalism; as well as your big efforts towards a more perfect and accessible media in our beloved country. Your social engagement help shine the spotlight on what works and what needs to be changed or improved upon in our society, hence raising the bar of good conduct and visionary leadership on all of us, be it at the national, regional and local levels or even internationally.
I am exceptionally touched that you decided to organize this year's award ceremony in the historic city of Buea. No right minded Cameroonian can ignore the unique position that Buea occupies, and ever will occupy in the life story of this country and its millions of inhabitants. From the pre-modern times of the so-called "discovery of Africa" through the German era and the years of being a protectorate, through reunification and today's Cameroon; Buea has, and ever will remain a corner stone of our national edifice. It is also the rock upon which Cameroon must build its resilience and fortitude going forward.

The symbolism cannot be lost on anyone. And the word must go forth loud and clear from a top Mount Cameroon to all Cameroonians that this 'Son of the soil' in receiving this award and the relevant attributes this day, is acutely aware that the bar is being raised; just as he is aware of the high expectations of his fellow compatriots that he does more for our dear fatherland. And make no mistake, I can say here today, unequivocally to my 22 million fellow compatriots, that I will always strive to meet and surpass or exceed their expectations.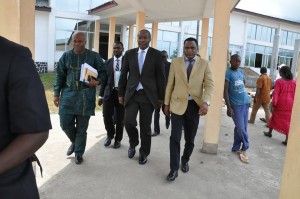 Yes, having a Harvard University degree is great; having a PH.D is intellectually stimulating. Helping other African countries strengthen their democratic governance is admirable and rewarding for the pan-Africanist that I am. But nothing, none of that is as fulfilling as being able to serve your own people and being able give back abundantly to your community. That is why this particular award touches a special place in my heart. That is why I am also very proud that in the delegation that accompanied me to receive this award are brothers and sisters from all 10 (ten) regions of our country, travelling by air, by train and by road to be here to bear witness to this historic event. I thank them profusely and acknowledge their support and encouragement as well as that of the staff of the Fomunyoh Foundation, without which none of the humanitarian actions and philanthropic deeds of the Foundation would have happened.
We also are having these celebrations of leadership, humanitarianism, and philanthropy at a pretty tough time for our country as we fight extremists jihadists of Boko Haram in the Far-Northern region. Boko Haram is destroying the lives and livelihoods of our fellow country men and women, innocent civilians, soldiers and our children alike. In this fight against Boko Haram that ought to be the centrality of our political and governance focus, our soldiers, the members of the Armed Force (military & Gendarmerie) and the police and other relevant services, including citizen protection committees are demonstrating their valour and bravery and professionalism on a daily basis.
These brothers and sisters in uniform are the ultimate leaders and philanthropists of our time; because, without any hesitation, they put their lives on the line, and some have paid the ultimate price, so the rest of us can live and enjoy our livelihood. It is truly to them that Awards like this should be dedicated, and it is to them that I feel I hold this award in proxy. In the days ahead, I will be asking my lawyers to study the feasibility of creating a special scholarship fund that can provide additional educational, mentoring and financial assistance to those children of school age whose principal bread winner (dad or mom) is one of our fallen heroes in the fight against Boko Haram. The Fomunyoh Foundation is very open to collaborating with other entities or individuals that are engaged in a similar endeavour. We must reassure these unexpected orphans and widows that we are a grateful nation and will never forget.
Please let us now observe one minute of silence as we remember all the victims of Boko Haram, and in honour of our brave men and women who have fallen while protecting our fatherland.
We also are holding this ceremony this March 4th, 2016, four days to March 8th, 2016, the International Women's day, and I can tell you that there aren't as many philanthropists out there around the world than you would find among our mothers and grandmothers, our sisters, daughters, nieces, aunts and cousins. As I have criss-crossed various parts of our country, I have met incredible women with wonderful uplifting experiences of philanthropy, goodness, kindness and humanity to share.
I still remember very fondly now late Mrs Marie France, a grandmother who first trained as a reverend sister and later left sisterhood to run an orphanage  for close to 100 (one hundred) children in Bertoua, in the East region. Despite her failing health, Marie France obtained permission from her doctors in Yaoundé to leave her sick bed to host me in her home with those beautiful children last November and to share with me her life story and commitment to humanity through those children. Sadly, Mrs. Marie France passed away early this year.
I think of Dr. Djibrilla Fatima Sidiki, who is based in Maroua in the Far North region and who, rather than seek to sit behind an office desk like some PH.Ds, is actually out and about at the grassroots, organizing women in rural areas  across the Grand North and giving them new skills and opportunities to improve their lives.
I think of Commy Mussa, a young journalist and social activist based in Bamenda, who, rather than stick solely to her pen, is working to build the capacity of women local councillors in Nkambe, Donga Mantung Division of the North West Region.
I see in action, Mrs Leocadia Mandeng, a single mom from the Ocean Division of the South Region, striving to succeed as a business entrepreneur nationally and in our sub-region, so she can pay her children through school while at the same time looking after the children of other people less privileged than she is.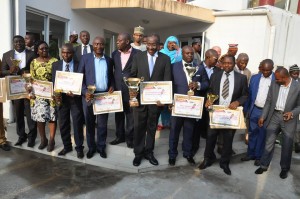 I learned first-hand the work of Mrs. Dzebong Octavie, president to the ''Association Ngong'' du Nde in the Western region which mobilizes market women and enhances their capacity to sustain themselves economically, financially and socially. Mrs Dzebong attended my book launch in Bafoussam in November 2014 and said she also wanted to be part of the conversation about our country's future.
I think of Ms Nakinti Besumbu, a young journalist from Ndian Division in the South West region who, despite the challenges of funding, runs an initiative called 'Rescue Women' to train girl children in information technology and new skills that can make them more successful citizens.
I also know first hand the efforts of Mrs Ikollo Jacqueline, Queen of Bonedale, Douala in the Littoral region, who is a geologist by training and who, rather than go make money working for big oil companies, is spending time organizing women within Sawa communities and in chiefdoms in other parts of the country.
And I also think of the young, dynamic, hardworking Grace Sil from Yaoundé in the Centre region who trained in Europe in very specialized skills and returned home hoping to find opportunities to serve her country. She and many of her generation hope and aspire to a better future for this country that my generation has a civic responsibility to provide.
These are ordinary women doing extraordinary things and succeeding, oftentimes through very challenging circumstances. These women of all age groups, from all regions of our country are but a small prism though which to see the abundance of positive energy and exceptional potential, the philanthropy and kindheartedness of the Cameroonian woman. I, therefore, seize this opportunity, on behalf of the Fomunyoh Foundation and in my personal capacity, to say thank you; congratulations, and to wish our Cameroonian mothers, grandmothers, wives, daughters, nieces, aunts and cousins, a happy International Women's Day, March 8, 2016.
Let me close where I started, by thanking Guardian Post for the recognition and award; and you all Distinguished ladies and Gentlemen for your physical presence here today (which means very much to me) and for your time and attention.