BUHARI: NIGERIA 'WILL NOT TOLERATE' BIAFRA AGITATION
BY CONOR GAFFEY*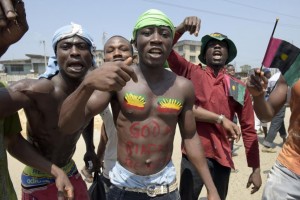 Nigerian President Muhammadu Buhari has said that agitation for an independent state of Biafra "would not be tolerated" as a prominent pro-Biafra activist goes on trial.
Thousands of people in southeast Nigeria have demonstrated in recent months, demanding independence for the region formerly known as the Republic of Biafra, which existed as a republic between 1967 and 1970. Nnamdi Kanu, a U.K.-based activist and the leader of the Indigenous People of Biafra (IPOB) group, was arrested by Nigerian authorities in October 2015. Kanu is due to appear in court in the capital Abuja on Monday, charged with treasonable felony, which carries a maximum life sentence in Nigeria.
Nigerian military officer Odumegwu Ojukwu declared an independent Republic of Biafra in southeast Nigeria in 1967, sparking a three-year civil war that resulted in the deaths of more than one million people, though some estimates place the death toll at up to two million. Buhari served as a Nigerian officer during the war, which ended in 1970 with Biafra being reintegrated into Nigeria.
The recent pro-Biafra demonstrations have led to clashes between protesters and security forces, resulting in a number of deaths. Amnesty International's Nigeria director M.K. Ibrahim recently told Newsweek that the organization was investigating allegations of killings of protesters and other human rights abuses in at least four locations in Nigeria and that it would also investigate allegations that Kanu has been tortured while in detention.
"We have a multiparty democracy system now. Let them [pro-Biafra protesters] organize themselves and vote to have a state within a state. But to try and interfere with movement of troops, with [the] economy, looking for Biafra after losing two million people, I think they are joking with Nigerian security and Nigeria will not tolerate it," said Buhari in an interview with Al Jazeera on Saturday. The Nigerian president also claimed that the majority of the protesters were not born during the Nigerian civil war and refused to invite them for talks aimed at resolving their grievances.
IPOB claims to have some 20 million members around the world and has opened an embassy in Spain, with the group's head of directorate of state, Uchenna Asiegbu, recently telling Newsweekthat the group had plans to open more embassies in 2016 . IPOB said that they welcomed Buhari's comments since "Biafra would also not tolerate Nigeria," in a statement reported by Nigerian newspaper Vanguard.
In the Al Jazeera interview, Buhari claimed that he had not failed in his pledge to defeat themilitant group Boko Haram, which has waged a six-year insurgency in northeast Nigeria. The president set a deadline of December 2015 to reclaim all Nigerian territory held by the militants, who have been driven into the Sambisa Forest in the extreme northeast of Borno state, and claimed at the end of 2015 that the group had been "technically" defeated. Despite the loss of territory, however, Boko Haram have continued to carry out suicide bombings and gun attacks,killing 151 people so far in 2016.
Buhari said that, when he came to power in May 2015, Boko Haram was in charge of 14 of Nigeria's 774 local governments. "Now they are not holding any local government and they have reverted to improvised explosive devices, blowing [up] soft targets. That's purely a terror thing that will be extremely difficult to eliminate," said Buhari.
*Source Newsweek