AfDB President rounds up Asian tour in Beijing with firm commitments for support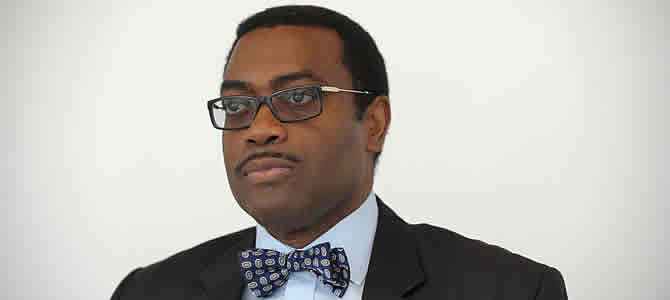 The President of the African Development Bank Group, Akinwumi Adesina, departed Beijing on Tuesday night at the end of a three-nation Asian tour, which took him and his delegation to  Japan (March 24-26), Korea (March 26-28) and China (March 28-29).
These visits have focused on consultation with influential public and private entities in these three important non-regional members of the Bank Group on the Bank's mission and future development programmes.
Being his first visit to these countries since he assumed office as the 8th elected President of the Group on September 1, 2015, Adesina used the opportunity to thank the governments for their support to the Bank. He also highlighted the areas where investment of public and private financing would result in win-win situations for both the Bank and its partners while accelerating Africa's development.
Adesina unveiled the Bank's High 5 priorities (Light up and power Africa, Feed Africa, Industrialise Africa, Integrate Africa and Improve the living conditions of the people of Africa), which were unanimously received by the political and business leaders who held discussions with the Bank's delegation during the visits.
China's Vice-Premier, Ma Kai said the High 5s provide China and the Bank common ground to work for Africa's development noting that the two sides have always supported each other in good and bad times.
In the same vein, the President of the Silk Road Fund, Wang Yanzhi said the Fund was focusing on the same domains as the High 5 priorities. He expressed a sense of renewed vigour to work with the AfDB for the good of the continent.
The delegation also had a working lunch with the Governor of the People's Bank of China, Zhou Xiaochuan, and interacted with several other development finance entities such as the chief executives of China Eximbank, China Development Bank, China-Africa Industrial Capacity Cooperation Company as well as China-Africa Development Fund.
Most of the cooperation commitments discussed at the meetings will be concretized at the Bank's 2016 Annual Meetings in Lusaka, Zambia.
The Bank's staff involved in Japan, Korea and China will be very activate in the coming days refreshing MOUs and writing the terms of new cooperation agreements, a member of the delegation said.
*AFDB