Why Are These Gitmo Detainees in Ghana?
By Philip Obaji Jnr*
Some 57 countries have accepted Guantanamo detainees, but most Ghanaians wish their country wasn't one of them.
WARRI, Nigeria — Maybe you've heard about the two Guantanamo Bay detainees from Yemen who were shipped out to the West African nation of Ghana. Or, well, maybe you haven't.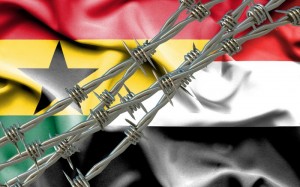 Despite the debate raging once more about U.S. President Barack Obama's efforts to closethe infamous facility and the refusal of Congress to let him do so, not much attention is paid to the hundreds who've been shipped out over the years, and even less attention is given to what happens in the countries that agree to receive them.
In Ghana, in fact, the arrival of two Guantanamo detainees who originally hail from Yemen has brought on a political crisis that makes Obama's problems pale by comparison.
Since news broke at the beginning of the year that these two would be coming to one of the region's most peaceful and least controversial nations, Ghana has been wracked by fears it will be drawn into the terrorist vortex, and the fragile government has been struggling to cope with growing outrage.
Khalid al-Dhuby and Mahmoud Omar Bin Atef—now the most infamous men in Ghana—had been held at the U.S. prison in Cuba since 2002 without being charged. Both are fighters from Yemen who went to Afghanistan to join the ranks of the Taliban. International coalition forces detained them a year after the U.S.-led invasion of Afghanistan in retaliation for the Sept. 11 attacks. Both men are suspected of participating in hostilities against U.S. and coalition forces in Afghanistan, but their attorneys have denied the accusations.
Atef was deemed a high-risk threat to the U.S. and its allies in a 2006 Department of Defense detainee assessment, which also noted that he had an extensive record of threatening and attacking his guards.
The Yemeni nationals were the first of some 16 prisoners penciled for release in January, but because of the ongoing war in Yemen, coupled with the fact of a strong al Qaeda presence there, the men were not eligible for release to their home country.
Over the years, 57 countries have agreed to take Guantanamo detainees, usually their own nationals. Thus the Obama administration has whittled the prison population at the U.S. Navy base from 242 when he took office down to 91 today.
Ghana's parliamentarians, church groups, civil society organizations, civil servants, and students have all criticized the decision to get Ghana involved. If President John Mahama had to run for re-election right now, instead of this November, he wouldn't have a prayer. Indeed, this government decision may be the most unpopular in Ghana's history.
"What equipment, instrument, and logistics does Ghana have to monitor the activities of the detainees to prevent trouble?" asked Ken Ohene Agyapong, a member of parliament from Ghana's central region. "President Mahama has disappointed me. We are better off under corruption than being involved in this world crisis."
The overarching fear around the country is that the former prisoners will attract or inspire Islamist violence, which already is a major problem in other parts of West Africa.
Mahama is a huge admirer of Obama and has strongly defended the government's decision to allow the Yemenis to live in the West African state for two years, saying Guantanamo Bay was a "blot on the human rights record of the world." The embattled Ghanaian leader suggested that a citizen of his country was more likely to die in a road accident than at the hands of the Yemenis, a remark that only served to heighten public anger.
"Ghanaians in the main are not happy and my government did not handle the process well, however well intentioned," Fritz Baffour, a member of parliament from the ruling National Democratic Congress (NDC), wrote on his Facebook page. "We heard about the Guantanamo Bay too from an outside source, Fox News, who revealed it before our government told us about it."
Mahama has many people in Ghana saying he received a large amount of money from the U.S., but a Ghanaian official told The Daily Beast that the country received no money for taking the ex-detainees. It would benefit, however, from information supplied by the U.S. about people looking to enter Ghana who might pose a security threat.
With elections looming in November, Mahama's decision has cost him a number of allies. Most notably, he has lost the support of the majority of Ghana's large and influential Christian community and has been frustrated to the point of making Bible references to justify a decision he can't reverse but which his people want to be taken back.
"So where is our Christian passion or where is our faith-based compassion for people?" he asked during a press conference in Accra last week. "The Bible teaches us to be compassionate even to prisoners—that is, even persons who have been convicted. These people were not convicted."
"The argument for compassion does not hold," said Rev. Joseph Osei-Bonsu, president of the Ghana Catholic Bishops Conference (GCBC), in reaction to Mahama's comments. "These people are not refugees. They are people who have been accused of being terrorists."
Ghana's very powerful Catholic bishops have been the most vocal of all Ghana's Christian groups. In a strong statement in January, the GCBC called on "parliament, religious leaders, chiefs, opinion leaders and civil society organizations interested in the security of Ghana to speak against this unilateral decision."
One priest close to the GCBC told The Daily Beast privately that the body is considering reaching out to Ghana's more than 3 million Catholics to organize some kind of protest, a decision that, if taken, could further diminish Mahama's chances of reelection on Nov. 7.
"It may not take the form of a street protest," the priest said. "But the clergy and the laity will make their voices heard."
Ghanaian Foreign Minister Hannah Tetteh appeared before Parliament in a closed-door session on Friday to brief the House about the agreements in relation to the acceptance of the two Yemenis. Details were not released because the case is in the courts.
But opposition legislator Mathew Opoku-Prempeh on Saturday accused Tetteh of withholding information about the government's decision to shelter the two detainees.
Opoku-Prempeh told a local television station that Tetteh was unable to disclose details of the agreement, adding that she did not respond to most of the issues raised about the detainees.
The minority in Parliament last week held a press conference on the same issue accusing Mahama of breaching the constitution of the country and announced their intention to impeach him.
As for the two former detainees themselves, they are no longer detained and say they are looking forward to rebuilding their lives in Ghana. By way of showing their warmth toward their new home, they recalled a quarter-final match at the 2010 World Cup between the West African nation and the U.S. that ended in a victory for the Ghanaians.
"When Ghana beat America, we were very happy," said Atef, speaking to Uniiq FM, a local radio station. "We made some celebrations. We also told the guards that 'We've won!'"
"We have suffered, but we are not looking for revenge," Atef said. "We want to live in Ghana quietly and peacefully. And we want to put our lives together."