Uganda and Niger: How far can the US push allies on election irregularities?
America's response to both elections last week shows a balancing act over its commitment to democracy and fighting Islamist extremism in Africa.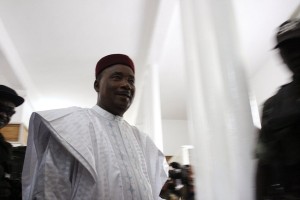 JOHANNESBURG, SOUTH AFRICA — For many Ugandans, the aftermath of President Yoweri Museveni's disputed election win last week followed a wearily familiar script – with the exception of one offstage actor.
After police put the two leading opposition candidates under house arrest and violently put down demonstrations – echoing similarly contested elections in 2006 and 2011– the United States broke with tradition by quickly and forcefully decrying the government's conduct.
The US, Uganda's largest foreign donor, called the elections "deeply inconsistent with international standards and expectations for any democratic process." Secretary of State John Kerry also personally called Mr. Museveni to voice his concerns.
For many in this East African nation, this seems a watershed moment that could force an increasingly dictatorial leader in power since 1986 to change his tune. The US's condemnation was far stronger than when it meekly decried election "irregularities" in 2006 and 2011 amid widespread complaints of vote rigging and intimidation, and expressed disappointmentthat voting "did not occur on a more level playing field."
"I think this [election] will really affect Uganda's diplomatic relations with most EU member states and the US," says Daniel Ruhweza, a Kampala-based political analyst and lawyer. "My view is that unless our government comes up to address these challenges, we shall lose aid towards military, health, education and many other sectors."
Still, history weighs against that optimism. Both Uganda and Niger – the West African nation whose Feb. 21 presidential election has also drawn complaints of irregularities – are security allies in the US fight against Islamist extremism in Africa. And in that fight, many analysts contend, stability often trumps democracy.
"I don't think being a repressive regime or having dubious elections hurts your chances of staying an American partner so long as you occupy a strategic position," says Joseph Trevithick, a US-based military analyst who has closely tracked the US's military presence in Niger.
Take Djibouti, which hosts a major base for US military operations in the Horn of Africa, and whose most recent president election was boycotted by the entire opposition. Or Chad, a staunch ally in the war on terror whose president has been winning scandal-plagued elections since the 90's. "Washington maintains partnerships with regimes that are at best undemocratic and at worst authoritarian across Africa to maintain bases and outposts for their own interests," Mr. Trevithick adds.
Museveni's importance
Both Uganda and Niger have in recent years become linchpins in the US war on terror. Niger – an Alaska-sized patch of desert – has since 2013 served as a home base for American drones tracking Boko Haram, Al Qaeda, and other extremist groups in the region, and US and West African troops frequently train there for counter-terrorism missions. Uganda, meanwhile, has joined the right against Al Shabaab forces in Somalia, and has a long history mediating regional civil conflicts, as seen recently in South Sudan, Burundi and the Democratic Republic of Congo.
In that context, Western powers must strike a delicate balance when critiquing elections, says Stephanie Wolters, head of the conflict prevention and risk analysis division of the Institute for Security Studies in South Africa.
"Museveni has strategic importance because of his willingness to go into tricky areas" like Somalia, eastern Congo, and Burundi, she says. "So antagonizing him for his domestic policy may not be something the US wants to do."
In 2014, the US and other western donors briefly cut aid to Museveni's government after it passed a harsh law criminalizing homosexuality. The bill was later overturned, and Museveni called on lawmakers not to reintroduce it, citing the possible loss of US and European alliances. After last week's elections, however, Museveni appeared once again confident in his ability to dictate the terms of democracy in his country.
"I don't need lectures from anybody," he told reporters in his home of Kiruhura Sunday. "Mr. John Kerry rang me and I told him: 'Don't worry, we're experts in managing all those [elections].'"
Response to Niger
In Niger, early results from Sunday's election put incumbent President Mahamadou Issoufou in the lead with 46 percent of votes to 16 percent for his nearest challenger; opposition parties claim this is as a result of widespread voter intimidation and vote-rigging. On voting day, the leading opposition candidate, Hama Amadou, was in jail in what he says is a politically-motivated charge of child trafficking. The US State Department issued only a short brief on the election, commending Nigeriens for "overcoming logistical challenges and participating peacefully" in the voting process.
By Thursday, the streets in Uganda were calm again following days of national protest, with many ambivalent about the prospects for Western powers to put further pressure on Museveni.
"We seem to be left out by the so-called Western allies to die with our own problems," Amos Kibuka, a Kampala businessman, concluded glumly. "This is the time we really need intervention of our allies."