Touadera leads C. Africa run-off election: partial results
Bangui (Central African Republic) (AFP) – Former Central African Republic premier Faustin Archange Touadera comfortably leads his presidential rival Anicet Georges Dologuele in votes counted in the capital Bangui following weekend nationwide ballots, officials said Wednesday.
The partial results, show former maths professor Touadera winning more than twice as many votes in Bangui as Dologuele in the hotly-contested presidential run-off, seen as crucial to usher in peace after decades of turmoil.
Touadera garnered slightly more than 120,000 votes in Bangui, compared to over 55,000 for his rival Dologuele, according to an AFP compilation of results released by the National Election Authority (ANE).
The ANE did not give overall figures, but its results showed Touadera easily in the lead apart from in the capital's 2nd district, where the rivals were neck-and-neck.
Some 2 million voters were eligible to cast ballots. In the first round on December 30 turnout reached a high 79 percent, according to the ANE.
The candidates are both former prime ministers who have campaigned on promises to restore security and boost the economy in the mineral-rich but dirt-poor and chronically unstable country.
The first round was won by Dologuele, a 58-year-old former central banker known as "Mr Clean" for his attempts to bring transparency to murky public finances when in office. He took 23.78 percent of the vote.
He faced off against Touadera, also 58, who is standing as an independent. He surprised everyone by coming second in the first round with 19.4 percent.
– Fraud claims –
Earlier Wednesday the two rivals traded accusations of fraud, influence peddling and intimidation over the vote.
A spokesman for Dologuele's party told a news conference they had "tangible proof of fraud organised by the adversary in (the capital) Bangui and in the provinces."
"Fake polling stations were set up," Saturnin Ndomby said.
"We have received reports of several cases of intimidation with chiefs of armed militias patrolling city districts and villages or in polling stations to influence voting."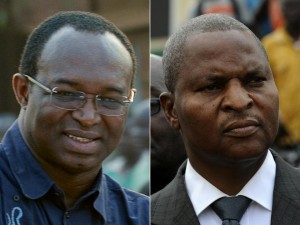 He also rejected allegations that Dologuele had held secret talks with a top official of the country's election authority, Julius Ngouade Baba, late on Monday on rigging the results.
Ndomby denied such a meeting took place, adding that Touadera's camp was trying to "fuel a climate of tension… and undermine the credibility of the institutions" organising the election.
The Central African Republic's most recent episode of bloodletting was sparked by the March 2013 ousting of veteran president Francois Bozize, a Christian, by the mainly Muslim Seleka rebel alliance.
The coup triggered a series of revenge attacks involving Muslim forces and Christian vigilante groups known as "anti-balaka" (anti-machete) militias.
Thousands were slaughtered in the spiral of atrocities that drove about a tenth of the population of 4.8 million people to flee their homes.