Hollywood Star Forest Whitaker Is On A Quest To End The Use Of Child Soldiers
"We can help turn soldiers into teachers, doctors, and leaders."
By Charlotte Alfred*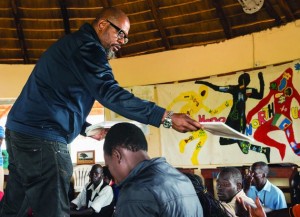 Forest Whitaker is known to many as a gifted actor who brought poise and gravitas to hit Hollywood movies like "The Great Debaters" and "The Butler."
His Oscar-winning role in "The Last King of Scotland" inspired him to become a passionate campaigner against the use of child soldiers around the world, joining with the U.N. in the campaign Children Not Soldiers.
In 2012, he set up the Whitaker Peace & Development Initiative, a non-governmental organization that develops peace-building programs for conflict-affected youths in Uganda, South Sudan, Mexico and the U.S.
The United Nations' Children Fund said this week that tens of thousands of children continued to be recruited and used in conflict around the world. Some 16,000 children in South Sudan have been forced to the front lines since December 2013, when conflict broke out in the world's newest country, according to UNICEF.
On Friday, as the world marks the International Day Against the Use of Child Soldiers, The WorldPost asked Whitaker about his work with these children and other young victims of conflict.
Read Forest Whitaker's blog about his experiences with child soldiers here. 
What sparked your interest in stopping recruitment of child soldiers around the world?
I first became really passionate about this issue a little over 10 years ago when I was in Uganda shooting "The Last King of Scotland". One day on set, one of the performers — a dancer and a musician named Okello Sam — asked me if I would come with him to a school he had built called Hope North. This place was a home and a sanctuary for former child soldiers and orphans of Uganda's civil war, which was ending around this time. As a father, I was horrified to hear the stories of what these children had to endure. But I was also moved beyond words to see their resilience and witness what Sam and his team at Hope North were doing to help make them whole again. I knew that I wanted to do my part to help these children and other boys and girls whose lives are impacted by violence.
I became very involved with Hope North and I've been back many times over the years. When I told my daughters about these children, they wanted to help, and they donated their laptops to the school. About four years ago, inspired by Sam's work at Hope North, I launched my own foundation, the Whitaker Peace & Development Initiative, which works to empower young women and men impacted by conflict to rise above these challenges and become leaders and community builders.
Did meeting former child soldiers influence your understanding of the problem of their recruitment and potential solutions?
One of the things I quickly came to understand after meeting former child soldiers was the importance of the work being done at Hope North to educate and rehabilitate these young people. When we talk about the issue of child soldiers, it can be easy to focus just on ending recruitment and liberating those boys and girls who are currently being held in military camps. Obviously, both of these are incredibly important goals, but it's also essential that we not forget about former child soldiers once they are liberated. These children have all suffered truly unimaginable traumas. In some sense, when you take a child soldier out of an armed group, you've taken away the identity he or she has had for years, and you can't assume life is just going to return to normal. Many of them were forced to commit acts of violence against family members or would be ostracized from their communities if they tried to go back. It can be a very difficult and lengthy process, but it's so important that we are there for these children to help them find their true identities and rediscover that feeling of being part of a community. Rehabilitation programs have to play an important role in this solution.
The Whitaker Peace & Development Initiative trains youth, including ex-child soldiers, in Uganda and South Sudan in conflict resolution and other life skills. Why are rehabilitation programs like this so important to the future peace in those countries?
These rehabilitation and peace education programs for former child soldiers and other young people impacted by violence are some of the most effective forms of preventative peacekeeping that exist. For many child soldiers, war and violence are all they have ever known. If we don't take it upon ourselves to show them an alternative, then they're going to be soldiers forever, and they'll continue to be recruited and to participate in violence if another conflict starts five or 10 years down the road. This is a cycle that has the potential to repeat their whole lives. By intervening with rehabilitation and education programs, we can break these cycles. This makes a huge difference not only in the lives of these former child soldiers, but also in the societies around them. With these programs, we can help turn soldiers into teachers, doctors, and leaders.
There was one former child soldier we worked with at Hope North named Simon. When I first met him, he was a shell of his previous self. There was this emptiness in his eyes. But over time, as he went through our program and became part of a community again, you could see a transformation occur. The light is back in his eyes, and he's started his own business — an electronics store that he's opened with some other students from Hope North. He's reaching out to other youth whose lives have been impacted by conflict, and he's becoming a role model in his community. This is an outcome that's possible for former child soldiers. We need to work to make these stories more common.
The initiative has peace-building projects in Mexico and the U.S. What parallels have you found between children living in violence-afflicted areas in the U.S. and Africa?
One of the reasons I became so involved in this cause was that, when I first started working with child soldiers 10 years ago, I couldn't help but notice the similarities between them and a lot of the kids I knew growing up in South Los Angeles. I was in middle school right around the time the Bloods and the Crips started taking root in Compton and a lot of the other neighborhoods around me. I saw way too many of my peers — smart, kind, good kids — who got drawn into gangs and violence, and their futures were going to be forever scarred by that.
I think this is a common feature wherever there is conflict, whether in East Africa, Mexico, or right here in the United States: when young people feel like they don't have any real pathways to a successful livelihood and future, that's when they turn to violence. Building peace requires that we resolve the underlying root causes of conflict, and in almost all cases, that means working in communities to develop real opportunities for youths to learn, work, and succeed.
What results have you seen from your wellness programs, such as yoga and meditation, for violence-affected children in Africa and North America?
The yoga, meditation, and life-skills components that you mentioned are really important in the work that WPDI does. The model that we follow for many of our programs is to work with a core group of young women and men in vulnerable communities and develop their skills as leaders and conflict mediators. Then we support these youths as they go back to their homes and start their own peace-building initiatives and recruit other young people to join them. As you alluded to, many of our participants have been victims of violence — some are former child soldiers, some have been displaced by conflict, some have lost family members. It's very difficult to build outer-peace in the world around you if you are struggling to find your own inner-peace. We want to help our youth peacemakers overcome the traumas and hardships they've faced. Teaching them yoga and meditation techniques and helping them live balanced, healthy lives is really important in enabling them to go out and create change in their communities.
So far, our youths have responded really positively to these wellness aspects of our program. There was one former child soldier we work with — who is now in his mid-20s — who told me that, before he learned to meditate, the only way he could calm his nerves was with alcohol. Some of our peacemakers have started practicing yoga every day to find a sense of calm and stability. For people who have endured some terrible hardships, these things can make a real difference in how they perceive themselves and relate to the world.
Which achievements of the U.N. campaign Children, Not Soldiers — launched in 2014 and aimed to end and prevent nations' use of child soldiers by 2016 — that you advocated for have been most encouraging?
The Children, Not Soldier campaign is currently working with governments in seven countries that have historically recruited child soldiers. What we've seen over the past two years is that, for the first time, some of these nations are showing a true willingness to reform and protect children. Of these seven countries, six have signed action plans with the United Nations. I think the fact that Children, Not Soldiers has been able to make the seriousness of this problem known — especially to leaders in countries that have been among the worst violators — is an important achievement in and of itself.
We are also seeing more than just commitments to change, but also tangible reforms as well. For example, a few years ago, Chad worked with the United Nations to create an action plan for ending the recruitment and use of child soldiers. Recently, it completed every step on that plan, and Chad has now been removed from the Secretary-General's list of parties that use child soldiers. This shows that real progress and meaningful reform are possible.
Despite Yemen and South Sudan's commitments to end child recruitment, the ongoing wars in those countries appear to have set back progress, with more children on the battle lines. What has been your biggest disappointment of the campaign?
The lack of progress in recent months in South Sudan is an enormous disappointment and an international tragedy. My foundation has been involved in South Sudan since 2012, and it's been heartbreaking to see the conditions that so many children in that nation have had to endure. In 2014, during one of my trips to South Sudan, I and Leila Zerrougui, the Special Representative of the Secretary-General for Children and Armed Conflict, met with President [Salva] Kiir, who had committed to work with the United Nations to end the use of child soldiers in South Sudan's army. As part of the peace agreement signed last August between the government and rebel forces, both sides reaffirmed this commitment. The fact that both parties have been violating the ceasefire agreement and continuing to recruit and use child soldiers is unacceptable. I continue to join the international community in calling on South Sudan's leaders to honor the ceasefire and protect all children impacted by this conflict.
How can ordinary people contribute to the campaign to end child recruitment in conflict?
First of all, anyone who wants to learn more about Children, Not Soldiers can visit their website. I also think one of the powerful things about social media is that it gives people a megaphone to come together and advocate for the causes they care about. If you look throughout history, every significant social movement has had thousands or millions of ordinary people behind it, standing up for what is right. So if you want to help raise awareness of this campaign and show your support, tell your friends and followers about it and use the hashtag #ChildrenNotSoldiers.
If you can afford it and want to help WPDI empower children and youths in regions of the world impacted by violence, we would be grateful for your donation.
Finally, something everyone can do is to take a moment right now and don't think of child soldiers as just statistics on a piece of paper or a problem that affects some far-away country. Imagine that your children were taken from you and forced to live in military camps and commit unspeakable acts of violence. Imagine you spent your childhood with a gun in your hands fighting a war, instead of going to school and playing with your friends. That scenario is a reality for hundreds of thousands of children and families throughout the world. I hope you'll join me in showing your support for these children and telling leaders around the world that we won't stand for it.