Growing Chorus at African Policy Breakfast for more Global Outrage against Boko Haram
By Ajong Mbapndah L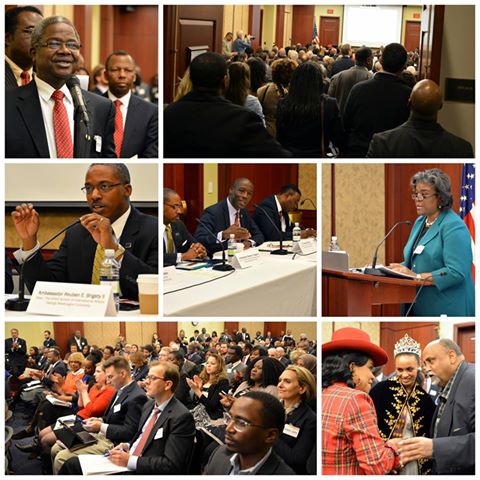 Boko Haram and its regional impact was the topic of the February 2016 African Policy Breakfast Series in Washington D.C.   Hosted by US Congresswoman Karen Bass the aim of the event was to "provide a setting for members of Congress and representatives from diverse sectors and backgrounds to discuss critical and timely issues specific to U.S.-Africa policy." 
Addressing over 200 policy makers, civil society actors and about seven Ambassadors, Keynote Speaker Linda Thomas-Greenfield, Assistant Secretary for the Bureau of African Affairs, Department of State, started the dialogue with an over view of U.S efforts to help in the fight against Boko Haram . From sharing intelligence, assisting with equipment and deploying troops as is the case with Cameroon; Assistant Secretary Greenfield called for greater outrage in the face of continuous atrocities from the Islamic sect.
"We can no longer accept these monstrosities… it is important that we all stand up and say African Lives Matter," Ambassador Greenfield said to rousing applause from the audience.
During the panel discussion, the issue of Nigerian corruption was brought up with force, however; it was reiterated by many including Moderator Mr. Nii Akuetteh, Executive Director of the African Immigrant Caucus, that "before starting to discuss this, let's not forget that when approaching the issue of corruption, we must note that the issue is not something new or isolated to President Jonathan's term but has been a continuous problem in Nigeria for decades." This is not a Jonathan issue Nii Akuetteh said. 
During the question and answer section of the breakfast, much was said about the US position on the matter of corruption. A breakfast patron openly said that, "the US government is afraid and is prioritizing security over actual governance reform," in Nigeria. 
In reference to comments attributed to U.S Secretary of State John Kerry lauding Nigeria for the sacking of 50 government officials over some 9 billion dollars, a question was asked whether the Buhari Administration was actually taking anti-corruption measures or settling scores with real and perceived enemies. 
In response, Ambassador Reuben E. Brigety II, who is currently Dean, Elliott School of International Affairs George Washington university and former US Ambassador to the African Union confidently stated, "The answer probably is yes, which is to say that it may very well be some of both, they are not mutually exclusive propositions." He went on to mention how in diplomacy, unfortunately there are tradeoffs that have to be made regarding how far one can push on certain issues or how one works on a core interest.  
Dr. Raymond Gilpin, Dean, Africa Center for Strategic Studies, National Defense University followed up by mentioning that regarding the resources on the continent of Africa, they are either wasted or squandering generally. The challenge for the Buhari's administration is to put systems in place that identify and prevent future mistakes from happening, instead of just apportioning blame.
Also on the panel was Sam Okey Mbonu of the Nigerian –American Leadership Council who offered insight on what the civil society could do to play a more constructive role in developments affecting Africa.
Speaking earlier, Rep Frederica Wilson (D-FL), who has worked tireless to seek clarity on the whereabouts of the Chibok girls, challenged participants at the breakfast to keep up the pressure on the Nigerian government until satisfactory answers are provided.  Rep Wilson distributed fliers, shared pictures of some Boko Haram atrocities and called on concerned activists to use protests, and all social media tools available until the girls are brought back.
It is worth mentioning that the attacks from Boko Haram and the missing Chibok girls were a big campaign issue with the opposition APC using it with great effect to discredit the government of President Goodluck Jonathan, though his government with insignificant US government support , had almost rolled back Boko Haram gains from almost every part of Nigeria. 
Now in power, Nigerians are still expecting the APC to deliver on its promises. Though the Nigerian Government claims that the war against Boko Haram has been won, attacks from the sect continue to ravage and instill fear in several communities. The Administration has also been sending nuanced messages when it comes to the Chibok girls. Even out of power, Jonathan continues to be the subject of barbs from APC Chieftains which have so far failed to ruffle him. The former President was recently quoted as saying he will continue to refrain from criticizing or commenting on the actions of his successor as there will be an unnecessary distraction. 
Scheduled to last for two hours, there were some participants who wanted the issues in discussion to go beyond Boko Haram as there were questions on cyber security, Somalia, Ethiopia and the crisis in the D.R.Congo which according to one visibly angry Congolese was not getting enough attention.