Former President George W. Bush surprises 'Lost Boys' of Sudan during tour
By Julie Fancher*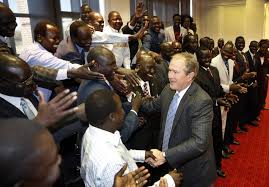 Mamer Demamer was 7-years-old when he and thousands of other Lost Boys fled South Sudan amid a brutal, deadly, decades-long civil war.
Now he works for the former president of the United States.
"When I came over [to the United States] … I mentioned the fact that I love President Bush and I would like to work at the center, because of what he did for us," Demamer said.
On Friday, George W. Bush surprised Demamer and 70 other Lost Boys during their first tour of the George W. Bush Presidential Center.
The Clinton, Bush and Obama administrations have all worked to attain peace in the war-torn country. In 2005, Bush, who made Southern Sudan a focus of his foreign policy, helped broker the Comprehensive Peace Agreement between North and South Sudan that ended the 22-year civil war and later paved the way for independence, which was achieved in 2011.
Demamer, who works as a guest services representative at the center, was extremely surprised — and excited — to see the former president, who helped broker an end to the war there during his presidency.
"What President Bush did was really nice for us," Demamer said. "We admire him, because the independence we got in Southern Sudan in 2011 is because of George W. Bush."
Erjok Erjok was just 5-years-old when he fled South Sudan. Now the 33-year-old is a captain in the U.S. Army and was stationed in Iraq from 2010 to 2011.
He said he felt obligated to join the military in 2005 after learning "what the country had done for me."
"It was a great feeling to serve the nation that has served me, that has given me so much, and has continued to," he said. "In 2005, America as a nation worked hard to bring the 22-year civil war to an end. So it was like a double obligation … it gave me an opportunity to come over here, go to school and pursue the American dream."
After surprising the group, Bush and his wife Laura took photos and answered several questions, including one from Demamer who asked Bush to help with the current war in Sudan.
A new civil war started in 2013. Thousands have since died, more than 1.5 million people have fled their homes and nearly half the population is at risk of going hungry.
In August, the president of South Sudan signed a peace deal with rebels more than 20 months after fighting started between the army and rebels led by his former deputy.
Many of the Lost Boys, who still have family and friends in the country, say something must be done to help achieve peace in their nation.
"It was tough times for me and my family," Demamar said. "The fighting is really bad. People are dying, they are really suffering."
But Bush said since he is no longer president, his ability is limited.
"One of the things we can do is urge others in future administrations to stay engaged," he said. "The danger is that sometimes in America there is a sentiment that says 'Who cares what happens elsewhere? Let's focus inward,' which I think is very unhealthy. One of the things we do here is continue to remind Americans about how we can help others and the need to help others."
The former president also gave them some advice and perspective.
"Know you are influencing people, you are reminding people how fortunate we are in this country," Bush said. "I was very hopeful when the accord was made for independence and I was pleased when the vote for independence came. I'm not surprised however, that with independence comes difficulties. If you've studied the history of the United States you'll find the same thing. It's not a smooth path to achieving stability, but having civil society necessary for democracy to thrive."
Friday's visit has been years in the making, officials said.
"The people of South Sudan have a very special place in our hearts," said Amanda Schnetzer, director of the Human Freedom Initiative at the Bush Institute. "In just a few years you all have become our friends, our neighbors and our colleagues. We pray for your continued success in our community and appreciate all that you do to make this a better place to live."
Dawn West Barnett, president of the Friends of Lost Boys DFW, has worked with the group since the first Lost Boys arrived in the area.
Barnett said about 90 percent of the boys have become American citizens since arriving in the county, and more than 60 have graduated from college. There are about 200 lost boy living in the Dallas-Fort Worth area now, many of whom arrived in the early 2000's.
"They've made the most of what life has given them," Barnett said, tearing up. "They don't complain, they don't want handouts, they work hard, they are honest and they love God and this country. They just take what life throws at them and handle it with such grace."
Demamer said he is now interested in public affairs, and maybe one day can work for the Bush Center in a different capacity.
"There is a thing at the institute called Human Freedom. I love that," he said. "It is in my vision to help people, because I was helped by others. That's why I'm here."
*The Scoop