First American of African Descent appointed Area Engineer for District 5 in MD
By Ajong Mbapndah L*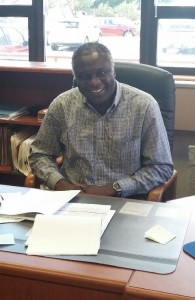 The African immigrant community recently registered another mile stone with the appointment of Dr Peter.M. Keke as Area Engineer and Assistant District Engineer for District 5 in Md. Originally from Cameroon, Dr Keke is the first American of African descent to hold these positions. From 1990 when he got to the USA, it has been a very eventful journey for Dr Keke whose experiences mirror those of most other successful African immigrants. "Never let people define your destiny and do not allow yourself be cut in myths," says Dr Keke as he settles into his new job.
Dr Keke, you recently became the first American of African descent to hold the Office of Area Engineer and Assistant District Engineer for Construction in the State of Maryland, how did your recent appointment come about?
The Assistant District Engineer for Construction position in District- 5 was opened to those who had the qualification to interview during the month of May 2015. I was one of the interviewees out of 5 people. The interview panel was made up of 4 people and each of us was drilled with 9 questions. The selected candidate was screened and interviewed by the Governors appointment secretary for final approval. Accordingly, I emerged successful and was appointed on December 7, 2015 based on my ability to meet all the requirements, demonstration of an efficient and effective understanding of construction and managerial principles throughout the interview and screening process.
May we know what exactly your new duties entail and what jurisdiction you cover?
In a nutshell, my new duties are administrative and engineering construction management. I represent the District on all matters relating to Highway and Bridge construction within my area. Some of the responsibilities are; management of a $356 million construction program annually, attend legislative meetings to advice and report on construction projects, challenges, and needs. Attend town hall public meetings. Represent and advice the District Engineer, Administrator, MDOT Secretary on construction related matters. Inspect and coordinate construction activities of contractors, hire construction inspections, and coordinate with upper management on how to attain the District's strategic and construction goals.   My jurisdiction covers four counties: Anne Arundel, Calvert, Charles, and St. Mary's Counties.
Prior to this new appointment, what functions did Dr Keke have within the MD Government?
I was a construction inspector from 1998 to 2000 in District-5. Then from 2000 I was a Project Engineer in the District up to 2004. I continued as a Project Engineer in District-3 from 2004 to 2006. In 2006 I became the first black Area Engineer in District-3 up to 2013 (District-3 covers Montgomery and Prince Georges Counties). In 2013,
I moved to District- 4 (that is Baltimore and Harford Counties) in the same capacity as the Area Engineer. And in December 7, 2015 I was appointed the Assistant District Engineer for Constriction in Disrtict-5.
What experiences and academic background does Dr Keke bring to his new job?
I bring lots of construction experiences in this position. First I worked in Ministry of Public work and Transport Cameroon, Highway Department Limbe after graduating from National School of Technology (Survey School Buea) as Chief or Technical Officer from 1982 to 1998. Then I became the Chief of Subdivision Highways Department Kumba from 1998 to 1990. I moved to the United States in May 1990 were I worked (from 1990 to 1996) at a gas station as security guard, and later served as a housekeeper, a nursing assistant, and a medicine aid, while at the same time going to school. From 1994 to 1997 I also served as the first Mathematical Student President of Bowie State University. In addition I served as a student tutor in both Mathematics (calculus 1, 2, and 3) and Engineering (Engineering mechanics and differential equations) in Bowie State University and University of Maryland College Park respectively. I also worked as a student mathematical intern with the National Air space Museum in Washington D.C for 3 months in 1997. During the same period from 1996 to 1998 I worked with the Driggs Construction Company as Quantity Engineer and Project Engineer before joining the Maryland State Highway in 1998.
Academically; I hold a diploma in Surveying, BS in Mathematics, BS in Civil Engineering, MS in Project Management/Engineering, and a PhD in Project Management.
For the immigrant that you are, how challenging has it been for you to get to where you are?
As an immigrant it has been very challenging with varied experiences from rejection, to temptations, oppositions, and a different culture. In short, the journey demands great patience, hard work, endurance, and tenacity. Another interesting challenge is language/accent. Despite the fact that I studied in the US, each time I talk people still see me as a foreigner because of my accent. Sometimes, you face rejection because of the accent and skin color. However, my focus is to not allow such distractions became obstacles; therefore, I have always been hard working, willing to learn at all times, and to take advantage of situations. My goal has always been to be the best at all times.
To the young ones who see in you a role model and will love to emulate your example and career trajectory, what message do you have for them?
Never let people define your destiny and do not allow yourself be cut in myths. For example, I was told a black foreign person cannot graduate from University of Maryland College Park. This is a myth since I graduated from the school with honors. Another, advice is to be patient with your plan, work hard on it and it will all pay off at the end. An important point to note is that transforming from a Cameroon society to US society is challenging. You must accept and be willing to make the change needed for assimilation. You will have to start with small or odd jobs, but do not allow the jobs to define you; rather use these small or odd jobs as a means to an end. Finally, things can be made much easier if you have a mentor. Though I had none, I find that a mentor to rely on can help understand, and guide you towards success.