CENTRAL AFRICAN REPUBLIC: EX-MATH PROFESSOR TOUADERA WINS PRESIDENTIAL ELECTION
BY CONOR GAFFEY*
Faustin Archange Touadera, a former math professor and rank outsider in Central African Republic's presidential elections, has won a run-off vote to lead the war-torn country.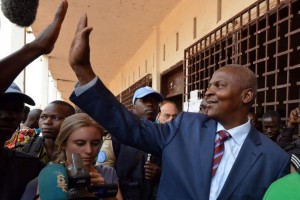 Former Prime Minister Touadera, 58, won 62.71 percent of the vote on February 14, defeating another ex-premier, Anicet Georges Dologuele, who polled 37.29 percent, the National Elections Authority announced on Saturday, according to Reuters. The pair faced off after neither won an absolute majority in the first round of polling held in December 2015.
December's vote was seen as a landmark for CAR, which has been beset by sectarian violence since March 2013, when former President Francois Bozize was overthrown by a mainly Muslim rebel alliance known as the Seleka. Largely Christian militias known as the anti-balaka formed in response and the rival militias have been engaged in tit-for-tat violence and killings. At least 100 people were killed in the capital Bangui between September and November, according to Human Rights Watch, while more than 460,000 Central Africans have sought refuge in neighboring countries.
Turnout in the run-off vote was around 61 percent, according to the elections authority, and the result must be certified within eight days by the Constitutional Court. The same court ordered in January that the parliamentary elections held in December 2015 be rerun after receiving more than 400 complaints about issues such as spoilt ballots. The presidential results look set to be verified, however, after Dologuele said he would accept Touadera's mandate "for the sake of peace," despite complaining of "massive fraud" in the second round of voting, Reuters reported.
Touadera, who served as prime minister between 2008 and 2013 under Bozize, ran on an independent ticket in the elections. During his premiership, Touadera kept up his teaching role at the University of Bangui and ensured that civil servants were paid on time, while also negotiating several peace deals between the government, opposition and rebel groups in 2008.
He faces a tough challenge in building a stable government in CAR, which has been led by interim President Catherine Samba-Panza since January 2014. CAR is the world's third-poorest country by GDP and was ranked 187th out of 188 countries in the U.N.'s 2015 Human Development Index, ahead only of Niger in terms of the quality of living standards enjoyed by the majority of citizens.
The country has relied on more than 10,000 U.N. peacekeepers for stability since the current peacekeeping operation was established in March 2014. U.N. peacekeepers and international forces stationed in CAR have been caught up in a slew of allegations of child sexual abuse, however, with some reportedly paying as little as 50 cents in exchange for sexual intercourse in an internally displaced persons camp in Bangui.
*Source Newsweek