African Union says it will send rights observers and military monitors to violence-plagued Burundi after visit by 5 African presidents
By RODNEY MUHUMUZA*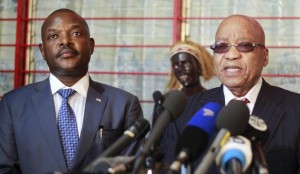 KAMPALA, Uganda (AP) — The African Union said on Saturday it will deploy rights observers and military monitors to violence-plagued Burundi following a visit to the country by five African leaders.
Burundian President Pierre Nkurunziza supports the deployment of 100 military monitors and 100 human rights observers, the AU said in a statement. Nkurunziza had previously opposed the AU's decision to deploy peacekeepers, saying they would be treated as an invading force.
The leaders of Ethiopia, Gabon, Mauritania, Senegal and South Africa visited Burundi this week to encourage peace talks between Nkurunziza and his opponents.
President Yoweri Museveni of Uganda, who was nominated by a regional bloc last year to mediate the Burundi crisis, is expected to convene all-inclusive talks, the AU statement said.
Burundi has been wracked by violence since April 2015, when Nkurunziza announced he would seek a third term, which he eventually won despite violent street protests.
More than 400 people have been killed in Burundi, according to the U.N, and a new rebel group has been formed against Nkurunziza.
The capital, Bujumbura, has descended into "new levels of lawlessness" as Burundian authorities target perceived opponents with increased brutality, Human Right Watch reported this week. Burundi's security forces have tortured or ill-treated suspected opponents so severely during arrests or in detention that some almost died, the New York-based rights watchdog said, citing beatings using rocks, bricks, gun butts and metal rods.
"Whereas dead bodies on the streets of Bujumbura were a daily occurrence in the second half of 2015, many abuses are now taking place under the radar, with security forces secretly taking people away and refusing to account for them," it said in a statement Thursday.
*Source AP