Why Nigeria Should Not Join The Saudi Arabia Islamic Military Alliance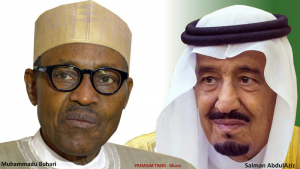 There have been reports about Nigeria joining the Saudi Arabia created Islamic Military Alliance Against Terrorism (ISMAT). Such a decision has serious implications for peace and security in our country and should not be taken without proper and transparent consultations and considerations.
We recall the national stress triggered by the non-transparent way in which we joined the OIC so many years ago. The ISMAT question could have much more serious implications for Nigeria than the OIC.
PREMIUM TIMES believes that Nigerian should not join ISMAT, created specifically under pressure to fight ISIS. The national interests of Saudi Arabia are not Nigeria's national interests. On the sound and legitimate issue of fighting terrorism locally, regionally and globally, Saudi Arabia has shown that her interests come first before any commitment to fight terrorism.
It is expected that countries advance and defend their national interests. But there is a problem when such collide with global interests, and Nigeria should not be made to simply be the vehicle with which another country advances its national interests. Nigeria must maintain its independence and sovereignty at all times.
The second reason is the ambiguity surrounding the formation of the ISMAT itself. Initially, Saudi Arabia called its initiative a "coordination centre" and later transformed it to an "Islamic Military Alliance" without consultations. Indonesia, for example, did not know that Saudi's "coordination centre" was going to be a military alliance. Pakistan also has indicated its surprise at the change. The global community only heard of the change when Saudi Arabia's Deputy Crown Prince, Mohammed bin Salman, announced the new group at a midnight press conference that members comprised countries genuinely interested in fighting all forms of terrorism – both Islamic and non-Islamic.
In clarifying Saudi's initiative, the Saudi Foreign Minister, Adel al-Jubeir, said the coalition is a group that would allow member states to request or offer assistance among themselves in fighting groups they designate as terrorists. Such assistance could include military force, financial aid, and material or security expertise. The "centre" "coalition" "alliance" (whichever name we use), according to Adel al-Jubeir, would have a permanent base in the Saudi capital, Riyadh.
Following this clarification, the question is: Is Saudi Arabia-created ISMAT a knee-jerk Saudi response to her narrow national interests? Is there anything to learn from the Nigerian massacre of the Shiites as Nigeria considers joining ISMAT?
The Nigerian Army, for example, officially designated its massacre of Shiites in Zaria, between December 12-15, 2015, as a "war" apparently because the Nigerian Shiites, which barricaded the highway wanted to assassinate the Chief of Army Staff (General Tukur Buratai). So if the Nigerian state or the Nigerian army "decides" to "designate" the Shiites who barricaded the road on December 12, 2015 as "terrorists", it means they can get assistance such as "military force, financial aid, material or security expertise" from Saudi Arabia and her ISMAT to combat the Shiites.
Both Saudi Arabia and Iran have been very engaged in the Shiite/army clash in Nigeria and are clearly eager to join the fray. This would be in line with their national interests, but Nigeria would certainly have no interest engaging in such a proxy war between the national interests of Saudi Arabia and Iran.
Apart from the ambiguous nature of Saudi's ISMAT, the third reason Nigeria should be critical of ISMAT is the cultural and theological roots of the terrorism ISMAT is supposed to fight. Some have argued with good reasons that the roots of some of the more contemporary forms of terrorism associated with Islam is located in the Salafi/Wahhabi movement upon which the Saudi Arabian theocracy rests. The Salafi movement claims to be the real Islam, and their adherents claim to be the real Muslims. Such claims imply that other Muslims who are not Salafi or Wahhabi are not real Muslims. Nigeria has different forms of Islam co-existing and PREMIUM TIMES believes that it is dangerous for us to officially promote a sectarian Islamic agenda.
In today's Global Islam, two forces are aligning supporters for a major confrontation – the Shiite forces under Iran's leadership and the Salafi-Wahhabi forces under the leadership of Saudi Arabia. Both of them have been known to sponsor forms of terrorism. We have, for example followed the activities of Iranian backed Hezbollah in Lebanon and Houthi Insurgency in Yemen. It is also known that the Shiites have empirically proven to be in an organised sense disrespectful of constituted authorities and governments. Given the Saudi/Iranian rivalry, Iran is not at the table at ISMAT! As the rivalry and proxy wars between the Iranians and the Saudi deepen and widen, Nigeria should beware of being a partisan on one side.
Despite the Shiites/army clash, Nigeria must not allow itself to become a pawn in the Saudi/Iran high-stakes bid for Islamic supremacy. Most of the world's Muslims, along with the majority in Nigeria, peacefully practice their Sunni doctrine without confrontation with others. We must stand for religious freedom and tolerance, something that may be lacking in the various alliances being whipped up in the promotion of divergent national interests, all under the cover of religion.
For the past seven years, Nigeria has been engaged in a war against Boko Haram, which has announced its allegiance to the Islamic State. Boko Haram has also announced that it considers Shiites to be non-Muslim and enemies. There have been reports of Boko Haram suicide bombers attacking a Shiite (Islamic Movement of Nigeria) procession in Nigeria.
The confrontation between the Nigerian army and the Shiites in Zaria is a strong indicator that we stand the risk of opening a second front of Islamist-based terrorism in Nigeria. Nigeria must not allow herself to be turned into a battleground for religious proxy wars.