Why Goodluck Jonathan Bashing Won't Work
By Senator Ben Murray Bruce*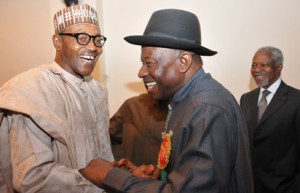 I am former President Goodluck Jonathan's senator. He is my constituent in the Bayelsa East senatorial zone that I represent in the Senate of the National Assembly and I am sufficiently aware of what he did and did not do while he was president of Nigeria.
Former President Jonathan achieved a lot of things for Nigeria during his term and I think it is a revision of history for anyone or institution to propagate the narrative that he set Nigeria back.
How could that be the case when under him Nigeria became the leading economy in Africa and our average life expectancy grew from 47 years to 51.7 years which represents the single largest increase in our annals?
Thankfully, these records, especially the one for the increase in life expectancy come from no less a body than the United Nations, so no one can say that Jonathan manipulated these records.
It is not that I have set out to defend Jonathan in this piece, but I think someone has to be responsible enough to say that Jonathan is out of the picture and to continue to blame him and his administration for Nigeria's current problems betrays a defeatist mentality by those who are engaging in that pastime. This 'blame it all on Jonathan' song can sustain those who sing it in the short term, but eventually it will work in Jonathan's favour. Those in the frontline of the anti-Jonathan chorus are more responsible than anybody else for keeping Jonathan in the consciousness of Nigerians which cannot be good for the present administration.
When you are out of political office, your greatest need shifts from the need to be seen as performing to the need for relevance. It is the government in power that needs to perform. Everybody else only needs to be relevant. And Jonathan's enemies are making him relevant.
In fact, by blaming Jonathan for all of Nigeria's problems, his enemies make him the main issue in Nigerian politics which is good for him and not for them.
Let me use an analogy here. In the 80s, reggae music was at the zenith of its popularity and all over the world, from the Caribbean, to Europe to Africa, reggae musicians were singing mostly one song. All their songs centred around freeing Nelson Mandela. However, when Mandela was unexpectedly released in 1991, the popularity of reggae music nosedived because reggae musicians had lost their number one source of inspiration!
So, while Mandela went on to become the most relevant black man of his lifetime, those that sang about his release gradually faded away into obscurity.
Are we seeing a replay of this scenario in Nigeria? Instead of all this Jonathan bashing, should we not be more concerned about the clear and present dangers facing this nation?
For instance, Nigeria has the fastest growing population in the world. While the population of Europe is projected to shrink by 2050, Nigeria's population is expected to surpass that of the United States and by 2100 it is projected that we will rival China's population.
Yet, as the population of Nigeria is exploding right before our eyes, some people are talking about dismantling the Jonathan era policies that were actually preparing us for the dramatic increase in our population without themselves coming up with alternative solutions. The new song is to jettison the National Conference report which made progressive suggestions on how to make our economy and polity less dependent on oil which is a diminishing resource.
The agricultural policies of Akinwumi Adesina while he was minister of agriculture are being pooh poohed for political reasons instead of celebrating and continuing with them. The man led changes that reduced our food import bill by over $4 billion and increased our ability to feed ourselves yet we do not want to recognise that because it is a fruit from the Jonathan tree.
The Jonathan administration weeded out 50,000 ghost workers from the federal civil service through the introduction and strict compliance with the Integrated Payroll and Personnel Information System (IPPIS), yet instead of applauding Dr. (Mrs.) Ngozi Okonjo-Iweala for this feat, we are instead bailing out states that cannot pay workers' salaries precisely because many of those workers are ghost workers!
Tell me who will feed us in 2050 when we have more mouths to feed than the entire populations of those countries to whom we would be looking for help? Jonathan was building schools for Almajiris and there are those insulting him for that and calling it a misplaced priority forgetting that if we do not educate the 10 million out-of-school children that the United Nations estimate exists in Northern Nigeria, a day will come when the population of out-of-school Nigerian children will be more than in-school children and the resultant effect on our national security will be nothing short of catastrophe!
Nigeria's politics has to mature. We have to realise that once elections are over, we must all accept the outcome and learn to work with each other. It is a big, big misconception that you have to like people to work with them or to build upon what they started. If man had kept reinventing the wheel, we would never have invented the plane.
Every generation must build upon where the previous generation stopped from. That is the story of human progress since the fall of man in Eden to the Internet age of today. If Alexander Graham Bell did not invent the telephone, we would not have the Internet today. If we had complained about the complication associated with the land line and jettisoned the idea of a telephone, we would not have made progress in telephony to the point where we have mobile phones!
If every new administration keeps starting from the scratch and wastes its honeymoon period demonising its predecessor, both Nigeria and the administration may find it difficult to fulfil their potential.
Enough of this rear view mirror focus we have been regaled with these past few months. It is time to man up and take responsibility for the way things are and take action to make progress.
Thankfully, not everyone has been caught up in the 'blame it all on Jonathan' frenzy.
Of all the present office holders, the only person that seems to have come to grips with the economic reality Nigeria finds itself in is the current Governor of the Central Bank of Nigeria (CBN) Godwin Emefiele. His idea of introducing home grown pragmatic policies to curtail what we spend our foreign exchange on is the only saving grace that has kept the naira at the level it is in.
If not for Emefiele's decision to stop the sale of foreign exchange for the importation of 40 items, we would have been experiencing perhaps a rate of 500 to $1. By this action, Emefiele has shut out those who previously wasted our foreign exchange importing luxury or non-essential commodities such as toothpicks, glass and glassware, kitchen utensils, tables, textiles, woven fabrics, clothes, plastic and rubber products, soap and cosmetic, tomatoes/tomato paste, margarine, palm kernel/ palm oil products/vegetable oil, meat and processed meat products, vegetable and processed vegetable products, poultry — chicken, eggs, turkey — private airplanes/jet and Indian incense.
Can you imagine that the CBN had been subsidising the importation of toothpicks, wheel barrows and palm oil which are products that we can conveniently produce in Nigeria? Are we going to die if we do not import Indian incense? What is that even used for in the first place? Or that at a time Nigeria had become a net exporter of cement we were still allowing people to import cement with our scarce foreign exchange?
We have millions of youths looking for jobs, yet, we were allowing people import chicken and eggs instead of financing our small and medium scale enterprises to go into such ventures which will meet our needs while providing jobs for our youths. These are the types of things that deserve our attention and I thank God Nigeria has people like Emefiele who has not allowed himself to be distracted by all the Jonathan bashing such that he is providing a steady hand at a time when other hands are unsteady.
Hopefully, those engaged in this conduct will come back to reality and stop their blame-shifting dance. If there is ever any man to blame for your present condition, it is never the man that sat in the seat you now seat on. It is always the man in the mirror!
*Senator Ben Murray Bruce is the senator representing Bayelsa East in the National Assembly and is Chairman of the Silverbird Group. He tweets from @BenMurrayBruce.