Uganda warns Burundi threat to African Union force a 'mistake'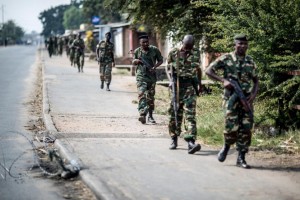 Kampala (AFP) – Uganda warned Burundi on Friday to work with the African Union after Bujumbura threatened to attack AU peacekeepers if they were deployed.
The small central African country descended into bloodshed in April when Burundian President Pierre Nkurunziza announced his intention to run for a controversial third term in a July election that he went on to win.
Bujumbura, which dismissed Ugandan-mediated peace talks in Tanzania this week, has rejected a proposed AU 5,000-strong force to halt the violence, calling it an "invasion" force.
Nkurunziza last month called on Burundians to "stand up to fight" if AU troops set foot on Burundian soil without permission.
"Shooting at the African Union peacekeepers would be a big mistake," Ugandan Minister of Defence Crispus Kiyonga told reporters on Friday, according to the state-owned New Vision newspaper.
"We are all members of AU and we are bound by its resolutions. If one is not satisfied with AU's decision, they can challenge it through proper channels, like through the AU summit."
Burundian and Ugandan troops fight side-by-side in Somalia as part of the AU force backing the government in Mogadishu.
Kiyonga has been leading Ugandan mediation efforts to resolve the crisis in Burundi.
An AU deadline for Burundi to accept the force has long passed and no action has yet been taken to deploy the peacekeepers, named as the African Prevention and Protection Mission in Burundi, MAPROBU.
Possible deployment of the force is expected to be a key part of talks in Ethiopia later this month, when the AU summit takes place on January 30-31.
"The African Union is engaging Burundi, and Uganda is doing the same, so that we resolve the matter," Kiyonga told AFP, but declined to say what possible action could be taken in Bujumbura blocks diplomatic efforts.
"There is good will in Burundi that this crisis ends," he said.