Two ex-PMs confirmed in second round C. Africa presidential vote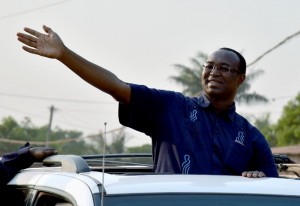 Bangui (Central African Republic) (AFP) – Two former Central African Republic premiers, Anicet Georges Dologuele and Faustin Archange Touadera, will vie for the presidency of the strife-torn nation in the final round of elections on Sunday, the Constitutional Court confirmed Monday.
Dologuele won 23.74 percent of the vote in the first round on December 30, trailed by Touadera, who picked up 19.05 percent.
The court said there were 1.3 million valid votes cast out of an electorate of nearly two million.
Dologuele, a 58-year-old former central banker, came to be known as "Mr Clean" after his attempts to clean up murky public finances during his tenure as prime minister from 1998 to 2001.
Touadera, also 58, is a former maths professor who served as prime minister under disgraced ousted president Francois Bozize. He was considered an outsider among the 30 candidates running for the top job.
The elections are seen as turning the page on nearly three years of sectarian violence, the deadliest since the country won its independence from France half a century ago.
CAR has been riven by coups, rebellions, army mutinies and prolonged strikes. The latest unrest has set mainly Muslim rebels against vigilantes from the Christian majority, with civilians as the main victims.