The AU condemns the terrorist attacks in Ouagadougou and expresses its full solidarity with and support to the Government and the people of Burkina Faso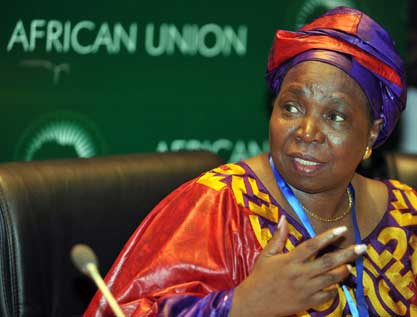 The Chairperson of the Commission of the African Union (AU), Dr. Nkosazana Dlamini-Zuma, leant with great dismay about the terrorist attacks yesterday, 15 January 2016, in various locations in Burkina Faso, against a military post in Tin Akof and against a hotel and a restaurant in the capital, Ouagadougou.
The Chairperson of the Commission strongly condemns these despicable and cowardly terrorist attacks that caused many casualties and injuries among the civilian population and the Defence and Security Forces. On behalf of the AU, she presents her heartfelt condolences to the families of the victims and wishes speedy recovery to the injured and expresses the full solidarity of the AU with the people and the Government of Burkina Faso.
The Chairperson of the Commission stresses that these attacks take place at a time when the new authorities of Burkina Faso, emanating from the elections of 29 November 2015, which put an end to the Transition, initiated in November 2014, usher in a new era of democracy, justice, reconciliation and sustainable development, with the support of the countries of the region and the international community as a whole.
The Chairperson of the Commission stresses, once again, the imperative need for strengthened and always better coordinated collective African and international efforts to deal with the growing threat of terrorism and extremism in Africa. She reiterates her call to the Member States to enhance their cooperation within the framework of the relevant African and international instruments. In this respect, she reaffirms the vital importance of establishing, quickly, an Intervention Force to be deployed in northern Mali, to fight against the criminal and terrorist groups operating from that region towards other countries of the Sahel, as envisaged in the Conclusions of the meeting, held in Bamako, on 4 September 2015, by the Defence Ministers of the Member countries of the Nouakchott Process on Enhanced Security Cooperation and Operationalisation of the African Peace and Security Architecture in the Sahelo-Saharan Region. On this painful occasion, she reiterates the determination of the AU to continue to support Burkina Faso in its efforts towards reconciliation and reform.
*APO