Statement by IMF Managing Director Christine Lagarde at the Conclusion of her Visit to Cameroon
Ms. Christine Lagarde, Managing Director of the International Monetary fund (IMF), issued the following statement today in Douala at the conclusion of her visit to Cameroon:
"My visit to Cameroon has been extremely fruitful. I wish to thank President Paul Biya and the Cameroonian authorities for our substantive and constructive discussions. While in Yaoundé, I also had the honor to address and exchange views with ministers from the six African countries members of the Central African Economic and Monetary Community (CEMAC).
"In my meetings with the Cameroonian authorities, I complimented them on resilient economic performance under trying circumstances. The impact of the twin shocks of sustained low oil prices and unexpected terrorist attacks in the northern part of Cameroon presents a very difficult set of issues. In response, the authorities are taking strong steps to secure macroeconomic stability and build strong and inclusive growth. The IMF is already helping Cameroon to meet its challenges through policy advice and technical assistance and we stand ready to provide further support should the authorities request it.
"In my meeting with CEMAC Ministers of Finance, I encouraged them to work even more closely together to strengthen regional integration which can play a key role in improving competitiveness and boosting growth. Reducing barriers to regional trade and implementing regional infrastructure projects could help to address competitiveness challenges facing the CEMAC countries. The IMF is providing support to the CEMAC Commission, the BEAC, and the COBAC through technical assistance in the areas of public finance management and monetary policy and will be pleased to continue to do so."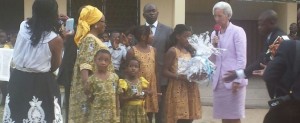 "I also met with the Governor of BEAC and we discussed the role of the central bank in providing a stable monetary environment and supporting a healthy financial system to assist the governments in carrying out their economic policies. With the President of the CEMAC Commission, we explored ways in which the IMF can continue to assist in promoting economic convergence and regional integration."
"In addition to meeting with Cameroonian and CEMAC officials in Yaoundé, I also traveled to Douala where I met with representative of the private sector, civil society, and women leaders as well. In particular, I was heartened to visit "Main dans la Main," a grass roots organization that has demonstrated a deep commitment to supporting vulnerable children in Cameroon."
"I would like to sincerely thank again the government and the people of Cameroon for their warm welcome and wonderful hospitality. The IMF remains Cameroon's steadfast partner in meeting the challenges of the future."
*APO