S.Sudan president apologises for 'unbearable suffering' of war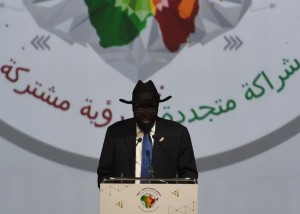 Juba (AFP) – South Sudan President Salva Kiir apologised Friday for two-years of "senseless" civil war but warned he would hunt down those still fighting "like rats."
The apology comes after Kiir this week named 50 lawmakers from the rebel movement and agreed to share ministerial posts with his rivals, in line with a peace deal aimed at ending the war.
Civil war began in December 2013 when Kiir accused sacked deputy Riek Machar of planning a coup, setting off a cycle of retaliatory killings that have split the poverty-stricken country along ethnic lines.
"I would like to… sincerely apologise before the people of South Sudan, because of the unnecessary and unbearable sufferings you the people of South Sudan and our beloved country have gone through in the last 24 months," Kiir said, in a speech broadcast on UN radio Friday.
Despite a peace deal, fighting continues, and the conflict now involves multiple militia forces who pay little heed to paper peace deals, driven by local agendas or revenge attacks.
Kiir, speaking in the capital Juba during a three-day meeting of the ruling party, the Sudan People's Liberation Movement (SPLM), warned of a "mushrooming of armed bandits" launching attacks in the south of the country.
"If these are the people who continue to fight us when we have signed an agreement… I will not stop my forces hunting them down like rats," Kiir said.
Both the government and rebels have been accused of perpetrating ethnic massacres, recruiting and killing children and carrying out widespread rape, torture and forced displacement of populations to "cleanse" areas of their opponents.
"The war has been very costly, in terms of the loss of precious lives, property and our own dignity – as leaders and people in the eyes of the whole world," Kiir added. "To point out the obvious, we have squandered much of the international goodwill."