Nigerian president promises new probe after meeting parents of Chibok girls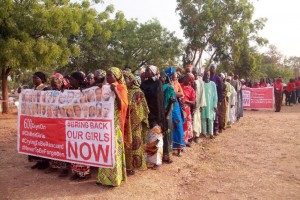 Abuja (AFP) – Nigerian President Muhammadu Buhari on Thursday promised to launch a new investigation into the April 2014 kidnapping of more than 200 schoolgirls by Boko Haram Islamists, after an emotional meeting with some of the parents.
"I assure you that I go to bed and wake up every day with the Chibok girls on my mind," Buhari was quoted as saying in a statement from the presidency.
Some 300 parents and sympathisers, many of them crying, had earlier marched through Abuja carrying signs with the faces of the missing girls before being taken in buses for an audience with Buhari at his official residence.
It was the first time the BringBackOurGirls protest group had met Buhari since he declared in December that the extremists were "technically" defeated, despite warnings from security analysts the war was far from over.
"Where is my daughter? I want my daughter back no matter the condition she is in," Iyana Galan told AFP.
"Even if she is dead I want to see her body," she said, choking back tears.
A total of 276 teenagers were seized from their dormitories at the school in Chibok, in the northeastern state of Borno, on April 14, 2014.
Fifty-seven girls managed to escape soon afterwards but the remaining 219 are still being held and have not been seen since they appeared in a Boko Haram video message released in May, 2014.
The audacious kidnapping generated headlines worldwide and laid bare the inability of Buhari's predecessor Goodluck Jonathan to tackle the insurrection.
Buhari told his visitors in Thursday's closed-door meeting that the country's National Security Advisor, General Babagana Monguno, would set up a panel to investigate the abductions, according to the presidential statement.
"The investigation will seek to, among other things, unravel the remote and immediate circumstances leading to the kidnap of the girls by Boko Haram terrorists as well the other events, actions and inactions that followed the incident," the statement said.
Since 2009, at least 17,000 people have been killed in Boko Haram violence and some 2.6 million forced from their homes.
The BringBackOurGirls group has kept up the pressure on the government with regular demonstrations and vigils in the capital.
But former education minister Oby Ezekwesili, who leads the BringBackOurGirls group, said Buhari had told them there was no "reliable intelligence that would enable them to rescue the girls as immediately as we are demanding".
Buhari said last month he was prepared to negotiate with any "credible" Boko Haram leaders for the girls' release.