Malawi: Prophet Bushiri Acquires Third Jet
By Nyasa Times Reporter*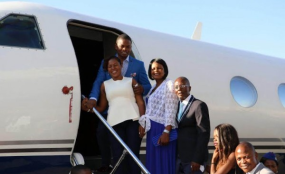 The saying is strong, 'who God blesses no man can curse.' Leader and founder of the Enlightened Christian Gathering ECG Church Prophet Shepherd Bushiri continues to walk in the path of glory after sealing another breath-taking deal with South African Aviation company Nac for the acquisition of his third Jet, ZS-VIP.
The Malawian born Prophet, alias the 'Major 1' currently based in South Africa has acquired a third jet in a space of three years.
The unveiling ceremony of the new jet ZS-VIP was presented by a biggest Company of Aviation NAC in South Africa on Wednesday 6th January, 2015 .
The handover ceremony was presided over by Gulf Stream Manager Larry Flynn.