Jonathan, Commonwealth SG discuss democracy and credible elections
By Ajong Mbapndah L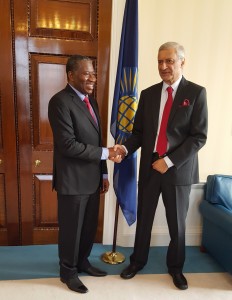 Former President Goodluck Ebele Jonathan yesterday paid a courtesy call on the Commonwealth Secretary-General, Kamalesh Sharma, at Marlborough House, the Headquarters of the Commonwealth Secretariat.
Welcoming Jonathan to Marlborough House for the first time, Mr Sharma thanked him for his able leadership of the recent Commonwealth Election Observer Group (COG) to Tanzania, and subsequently, for his services to the Commonwealth as his Special Representative following the annulment of the elections in Zanzibar.
He also paid tribute to the personal leadership of the former President in the peaceful transition to a new government in Nigeria after the last election.
The former President briefed the Secretary-General on the activities of the Observer Group in Tanzania. He lauded the Commonwealth Secretariat for supporting him with a team that displayed a high level of team spirit and professionalism.  Jonathan further welcomed the opportunity to be of service to the Commonwealth as the leader of the COG, describing it as 'a great honour, both for him, and for Nigeria'.
Jonathan expressed concerns about the persisting uncertainty in Zanzibar following the cancellation of the October 25 general elections. However, he was hopeful that the leaders of the country would put the national interest and the people of Zanzibar first, as they seek a sustainable and peaceful solution to the impasse in the ongoing national dialogue. Jonathan assured Mr Sharma that he would continue to take an interest in developments in Zanzibar as his Special Representative.
Jonathan commended the Commonwealth for its efforts in promoting peaceful and credible elections globally, and especially in Africa. He pledged to work with the organisation in the promotion of democracy and good governance, and in countering violent extremism on the continent.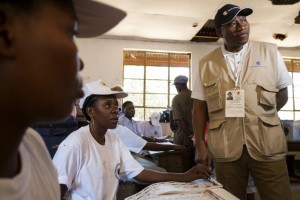 The Commonwealth has a longstanding and historical engagement with Zanzibar where it played a key role in resolving previous crisis, leading to the Muafaka agreements in 1999 and 2001.  The appointment of former President Jonathan as the SG's Special Representative, is seen by analysts as an affirmation of the former President's commitment to democracy, following his role in ensuring a peaceful democratic transition in Nigeria last year.
Jonathan has taken the global stage by storm since leaving Office last May. His democratic credentials were burnished when he stunned Nigerians by making a concession call to current Nigerian President Buhari who defeated him a keenly fought, high stakes election.
In addition to leading the Commonwealth Observer Mission to the last elections in Tanzania, Jonathan was guest of the Presidential Precinct in VA, USA, last November. During the trip, Jonathan met with former US President Jimmy Carter in Atlanta, and addressed a number of forums in Washington, DC. Named by the African Sun Times as the International Person of the year, the former Nigeria leader is expected to launch the Goodluck Jonathan Foundation in the course of the year.