I bought the equipment Buhari is using to fight Boko Haram – Jonathan
Former President Goodluck Jonathan has said that the current administration is still using the equipments his administration procured while he was in government in fighting Boko Haram.
In a special edition of Eye on Africa, FRANCE 24 speaks exclusively to former Nigerian president Goodluck Jonathan.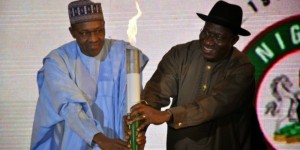 He said: "The new government is working hard and I believe they are still using the equipment we procured. The budget is still being debated, no new equipment has been bought, so even those equipment the president is using to prosecute the war against Boko Haram are those equipment we procured and I believe that with what we left behind and the new ones they will acquire, this issue of Boko Haram will be taken to a logical conclusion.
"When Boko Haram started in Nigeria, we had no terror experience. Yes we had armed robbery and other common crimes, but terrorism was different because the people involved were not afraid to die. So, you need a different mechanism to confront terrorism, you need superior technology, so that you will be able to stop them even before the attack. We never had the equipment, but when we were confronted, we started acquiring and before I left office we built reasonable capacity and I believe with what we left behind and also with what the new government will acquire, they will be able to prosecute this terror war to a reasonable conclusion," he said.
When asked to speak on the ongoing $2.1 billion arms deal scandal, Jonathan said: "This issue always comes up but I always insist that the matters are being investigated and they are in our own courts and in Nigeria where our issues are before the courts, you don't make comments on it. It is considered prejudice. But one thing you will also realize is that for us to have conducted elections across the country, all parts of the country, that means that we prosecuted the war against Boko Haram to a reasonable level. Otherwise, we couldn't have been in position to conduct elections across the country and we couldn't have fought Boko Haram with bare hands. This issues of corruption, issues of misuse of funds, being investigated before the courts and I wouldn't want to compromise the position of our laws because while I served as the President of Nigeria, I made sure that the judiciary had their own independence. I made sure that there is maximum separation of powers between all arms of government. So haven left office, I don't think I will be the person that will say things that will be detrimental to the judicial processes," he said
*Source African Spotlights