Hotel Rwanda hero decries oppression two decades after genocide
By Pamela Constable*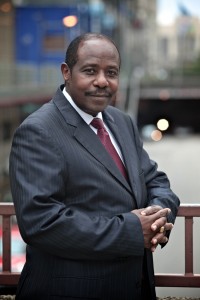 In 1994, a low-key hotel manager in Rwanda became an international hero for sheltering and saving the lives of more than 1,200 people from horrific ethnic slaughter. His display of courage was later portrayed by actor Don Cheadle in the 2004 film "Hotel Rwanda."
On Thursday, that former manager, Paul Rusesabagina, visited Washington and announced that he is launching a political campaign against the current Rwandan government, which he called a dictatorship. He hinted strongly that he hopes to run for president, but said he is not yet ready to risk returning because his life would be in danger.
"If things change there today, I will go back tomorrow," he told a small group of journalists on the anniversary of Rwanda's 1961 independence from Belgium. He said he wanted to "inspire hope in all Rwandans" for change, and he called on Western officials and donors to pressure the government in Kigali to restore political freedoms and allow fair elections.
Rusesabagina, 62, has only been back home once since the genocide by ethnic Hutu militias that left some 800,000 people dead in just three months, most of them ethnic Tutsis who were hacked to death with machetes. He sought political asylum in Belgium in 1996 and divides his time between homes in Brussels and San Antonio, Tex.
But the one-time seminary student, whose 2006 autobiography is titled "An Ordinary Man," has been a tireless crusader for international human rights and democracy. He has won numerous honors including the Presidential Medal of Freedom, which President George W. Bush awarded him in 2005.
He also has become a bitter adversary of Rwandan President Paul Kagame, 52, the former Tutsi rebel leader whose forces liberated the country in 1994. Kagame took power soon afterward and has twice won reelection. Kagame's government has been supported by Western donors and praised for bringing economic modernization and stability to the deeply impoverished nation.
At the same time, reports from the State Department and human rights groups have repeatedly criticized state suppression of political dissidents and the news media, including disappearances and extrajudicial executions, and questioned the legitimacy of Kagame's landslide electoral victories. In 2010, he won a second term with 93 percent of the vote, and last month, the constitution was changed to allow him to serve in office again.
"The government we had in 1994 was a horrible dictatorship. It has been replaced by an equally cruel but more polished dictatorship," Rusesabagina said Thursday. He accused Kagame of creating a powerful Tutsi "ruling clique" and said the West has supported him largely out of guilt over the genocide, in which the United Nations and the international community did little to intervene.
Rusesabagina said his own political organization, the Party for Democracy in Rwanda, is not able to operate openly in the country. It is based in Brussels, which has a large Rwandan exile community. He is of mixed Hutu and Tutsi parentage and said he seeks to build a society based on ethnic harmony and equity.
Rwandan officials dismissed his criticisms, saying that the Kagame government has worked hard to build a modern economy and democracy but has sought political consensus rather than antagonism to prevent a resurgence of the ethnic hatred and bloodshed that led to the genocide.
"We don't boast that we are 100 percent democratic, but we have been building a good foundation for 20 years, and the government's intent has been to give a good life to people from a policy and legal framework," said Lawrence Manzi, first counselor at the Rwandan Embassy in Washington.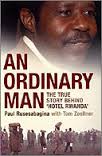 Manzi disparaged Rusesabagina as "a person made by Hollywood" and said he had no credibility, "even with people who were in the hotel" during the massacres. "He got a Hollywood persona and thinks he can exploit it politically."
Some of Rusesabagina's actions during the massacre have been criticized, such as entertaining Rwandan officials and selling rooms and liquor at the hotel where hundreds of desperate people sought refuge from marauding gangs. But in his book, he asserted that only by using his wits, perks and connections was he able to shelter so many people from what would otherwise be almost certain death.
At one point, an army captain threatened to kill everyone who had taken shelter inside the luxury Hotel des Mille Collines, and the manager quickly offered him a large sum of cash from the hotel safe. As the officer drove away with his death squad, Rusesabagina wrote, he realized "I was not powerless in the face of the murderous insanity. . . . I might be able to negotiate with the devil."
*Source Washington Post