Guinea's President Urges West to Step Up Intelligence Sharing
-Call comes after attacks in Burkina Faso
By GABRIELE STEINHAUSER*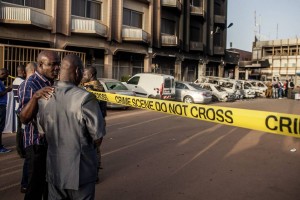 DAVOS, Switzerland—Western governments should step up intelligence sharing with West African nations in the wake of last week's attacks in Burkina Faso, Guinea's president said Wednesday.
Radical Islamist groups have warned they are planning similar attacks to those that killed 30 people in Burkina Faso's capital, Ouagadougou, on Friday and Saturday. The attacks, these groups warned, would target foreigners in other West African countries.
"We are clearly worried," Alpha Condé, the president of Guinea, said in an interview at the World Economic Forum in Davos, Switzerland.
Mr. Condé said Western governments that have greater means to surveil global terrorist groups should build on an already established track record and share more information with his country and its neighbors.
"Given the extent of the problem and how it is growing we need more information," he said.
Mr. Condé said West African authorities were also increasing collaboration to track down militants who have crossed into neighboring countries.
The attacks in Burkina Faso could undermine efforts in Guinea to develop its tourism industry, the president warned. "If people do not feel safe they will not come," he said, pointing to a slowdown in tourism in Tunisia.
Guinea's society and economy were hit hard by an Ebola outbreak in 2014 and 2015, but the country was declared free of new transmissions at the end of last year.
Mr. Condé said safety procedures—such as safe burials, regular temperature checks and hand disinfection—would be maintained until March 31 to prevent new transmissions.
"We really want to learn from the lessons that we painfully needed to learn from Ebola," he said.
Mr. Condé, who was elected for a second term last year, said he would use his meetings in Davos to remind international leaders of their aid pledges during the Ebola crisis.
"We have some verbal, theoretical commitments…but how do we actually make them concrete in the face of other events that have occurred since then?" he said.
Guinea, which has received large-scale investment from China in its mining and energy sector among others, hasn't felt the slowdown in the world's second-largest economy, Mr. Condé said.
"We are not very concerned" that Chinese investors will pull out, he said, adding they had stayed during the Ebola crisis.
However, to diversify its economy, Guinea must also look to its neighbors and the wider African continent, Mr. Condé said. "We believe that Africa will be the frontier market," he said.
*Source WSJ