Ethiopia drought: How can we let this happen again?
This time around Ethiopia is competing with war-torn Syria and Yemen for international funds.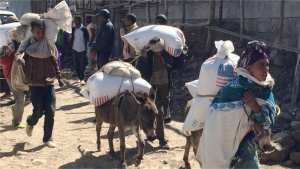 Ethiopia's Tigray and Afar regions to the north have once again been hit by a drought that is estimated to be the worst in 50 years – more terrible than that of 1984, which contributed to the famine that killed more than one million Ethiopians.
The alarm has now been sounded – after an avoidable delay, according to some – with the United Nations and Save the Children swinging into action to raise funds for Ethiopia. This time the argument for funds isn't just to save lives but to ensure that Ethiopia's current developmental momentum – and its best chance of being able to handle such droughts – remains on track.
But how could this be happening again – little more than 30 years after a global humanitarian appeal that raised many millions of dollars and saw foreign NGOs rush in to establish famine relief efforts and a host of infrastructure projects designed to prevent such a disaster recurring?
Such incredulity, already voiced in some media, is understandable: although the response from the Ethiopian government has been seen as partially successful, imminent crisis, exacerbated by the reaction – or lack thereof – from the international community, remains a distinct possibility.
Donor fatigue
Herein lies Ethiopia's greatest challenge:  donor fatigue, especially after 2015 proved to be such a tumultuous, humanitarian-crisis-riddled year.
The harsh economic truth this time is that Ethiopia is competing for international funds against the likes of war-torn Syria and Yemen, and a migrant crisis. In addition, the cogs of the bureaucratic donor system are not renowned for turning quickly.
Initially, Ethiopia tried what many in the West complain that developing countries don't do enough of: tackling the situation itself, employing a sophisticated food security network developed over the decades since awful images of the 1984 famine came to stigmatise Ethiopia.
The Productive Safety Net Programme is a welfare-for-work initiative enabling six million people to work on public infrastructure projects in return for food or cash.
Furthermore, there is a national food reserve and early warning systems throughout the woredas – the local administrative organisations.
Ethiopia's efforts went as far as the early opening of a railway line – the country's only one – between Djibouti and Addis Ababa, to transport food aid. It also committed an unprecedented $192m to help to prevent deaths from starvation. The country's ability and its means of providing emergency relief have changed beyond recognition since 1984.
But these efforts hit a snag: between June and October in 2015 the estimated numbers of those affected by the drought doubled to around 8.2 million.
Predicting the severity of the drought's severity was beyond Ethiopia's ability with the ocean-warming El Nino causing unusually heavy rains in some parts of the world and drought elsewhere. Neighbouring Somalia has about three million people hit by crop failures and food shortages.
So, finally, Ethiopia's government has asked for help. But some within NGOs say that the government delayed unnecessarily while going it alone to maintain the narrative of Ethiopia's great economic renaissance, achieving about 10 percent annual growth over the past decade.
Great economic renaissance
That rate has elevated Ethiopia to one of the fastest-growing economies in the world, radically improving the government's cashflow to mitigate such a crisis.
But plenty is already committed to such projects as building of the $5bn Grand Ethiopian Renaissance Dam, Africa's biggest, to generate enough hydro-electricity to guarantee the country's economic security.
Such growth finds its apogee in the Ethiopian capital, Addis Ababa, where the skyline changes each month as new towering buildings appear. However, beyond the modernising cities a very different Ethiopia remains, with about 80 percent of Ethiopia's population subsisting on rain-dependant agriculture.
In a health clinic outside Adigrat, Tigray's second largest town, 17-year-old Milite sits with her two-year-old child. A special tape measure around her daughter's arm reads yellow – "moderately" malnourished.
As 17-year-old Milite describes not having enough food at her grandmother's home where she has lived since the soldier father of her child deserted them, her daughter starts crying.
Those trying to initiate donor-funded programmes to bolster the Ethiopian government's efforts say that while people are not actually starving, they are close to it. Such concerns are heightened by the chance that El Nino will quash Ethiopia's next rainy season.
The UN estimates that such a situation could result in up to 15 million
Ethiopians suffering by mid-2016 unless donations increase.
That is the short term.  Aid agencies are warning that significant gains made in food security, education and health over recent years are now in jeopardy in some parts of Ethiopia.
"The consequences could ripple through generations," said the UN's International Children's Emergency Fund.
Foreign financial assistance is already arriving and, combined with money committed by the Ethiopian government, totals about $360m to confront the drought's aftermath. But the overall emergency response could cost $1.4bn, according to aid agencies, especially if fears about El Nino and Ethiopia's next rainy season come true. 
*Source Al Jazeera.James Jeffrey is a British freelance journalist based in Addis Ababa, where he writes about Ethiopia and the Horn of Africa.