Damage Control: Vast Campaign to Destabilize Burundi says Government Spokesman
-Role of Rwanda and Belgium troubling says Willy Nyamitwe
By Ajong Mbapndah L
"Burundi is neither experiencing a civil war nor a rebellion, but rather isolated instances of violent sabotage from disgruntled undemocratic elements," says Willy Nyamitwe, a spokesperson for the government.
Interviewed at the Embassy of Burundi,Nyamitwe, Senior Adviser In charge Of Media, Information & Communication at the President's Office said the violence in his country is not on the scale purported on the international scene.
"There is a vast international campaign to destabilize Burundi," Nyamtiwe said while on mission to share the government's side of the story. Most of those fanning the flames of discord have been offered refuge in Rwanda and Belgium, a development that Bujumbura finds troubling.
The government is aware of some countries and organizations bent on having a regime change, Nyamitwe said citing the example of the recent coup attempt and international media reports that the government considers lopsided.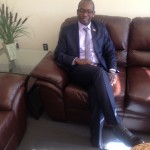 On the standoff with the African Union on the need for a Peace Keeping Mission, Nyamitwe said it was the determination of Burundians that one is not needed considering that the country is not at war. Burundi has sent troops for peace keeping missions to other countries and the security situation in the country is steadily improving.
The third term bid of President Pierre Nkurunziza widely considered as the precursor to the current crisis in Burundi is just a ruse by unpopular politicians who want power through undemocratic means said Nyamitwe. The President was in his constitutional right to run for another term and he indicated to Burundians that this will be his last term Nyamitwe, said.
Nyamitwe announced the imminent arrival of a mission from the UN Security Council to Burundi.and indicated that other organizations were welcome to assess things for themselves in his country.