Congo opposition to run against Sassou Nguesso in March polls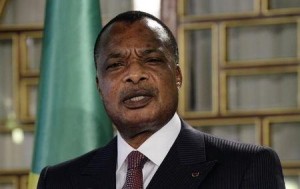 BRAZZAVILLE (Reuters) – Congo Republic's opposition has conditionally agreed to run against President Denis Sassou Nguesso in an election in March, even though it is widely seen as unlikely to secure what would be the first change in leadership in nearly 20 years.
Congo's veteran leader has ruled the oil-rich former French colony for 31 of the past 36 years in two separate spells and is widely expected to run in March and win comfortably, whether or not the opposition participates.
Opposition parties boycotted an October referendum on whether the president could legally seek a third consecutive term, a vote that Sassou Nguesso won by a landslide.
Some observers expected them to also refuse to participate in the March vote.
"We are working on the best strategy on behalf of our political family in order to win the presidential election," said Charles Zacharie Bowao, a former defence minister now in the opposition, at the meeting late on Wednesday.
He added that the opposition, which in the past has suffered from internal divisions, have not yet decided whether they will present a single opposition candidate or several.
The two main opposition alliances Initiative for Democracy in Congo and The Republic Front for the Respect of the Constitutional Order and Democratic Transition (FROCAD) will participate so long as there is an independent electoral commission and voter lists are reliable, among other conditions.
Congo Republic is deemed "not free" by U.S.-based democracy watchdog Freedom House. Security forces fired on anti-government protesters during the October referendum, killing at least four people, while some opposition leaders were placed under house arrest by presidential guards.
The government said detentions were necessary to restore order and accused the opposition of planning an insurrection.
Attempts by other veteran African leaders to extend their mandates have also led to unrest such as in Burundi where President Pierre Nkurunziza's decision to run for a third term has sparked violence, killing more than 400 people.
Analysts said that the risk of street violence in Congo's polls would be greater if the opposition participates, since they are more likely to denounce irregularities and provoke public anger.
*Source Reuters/Yahoo